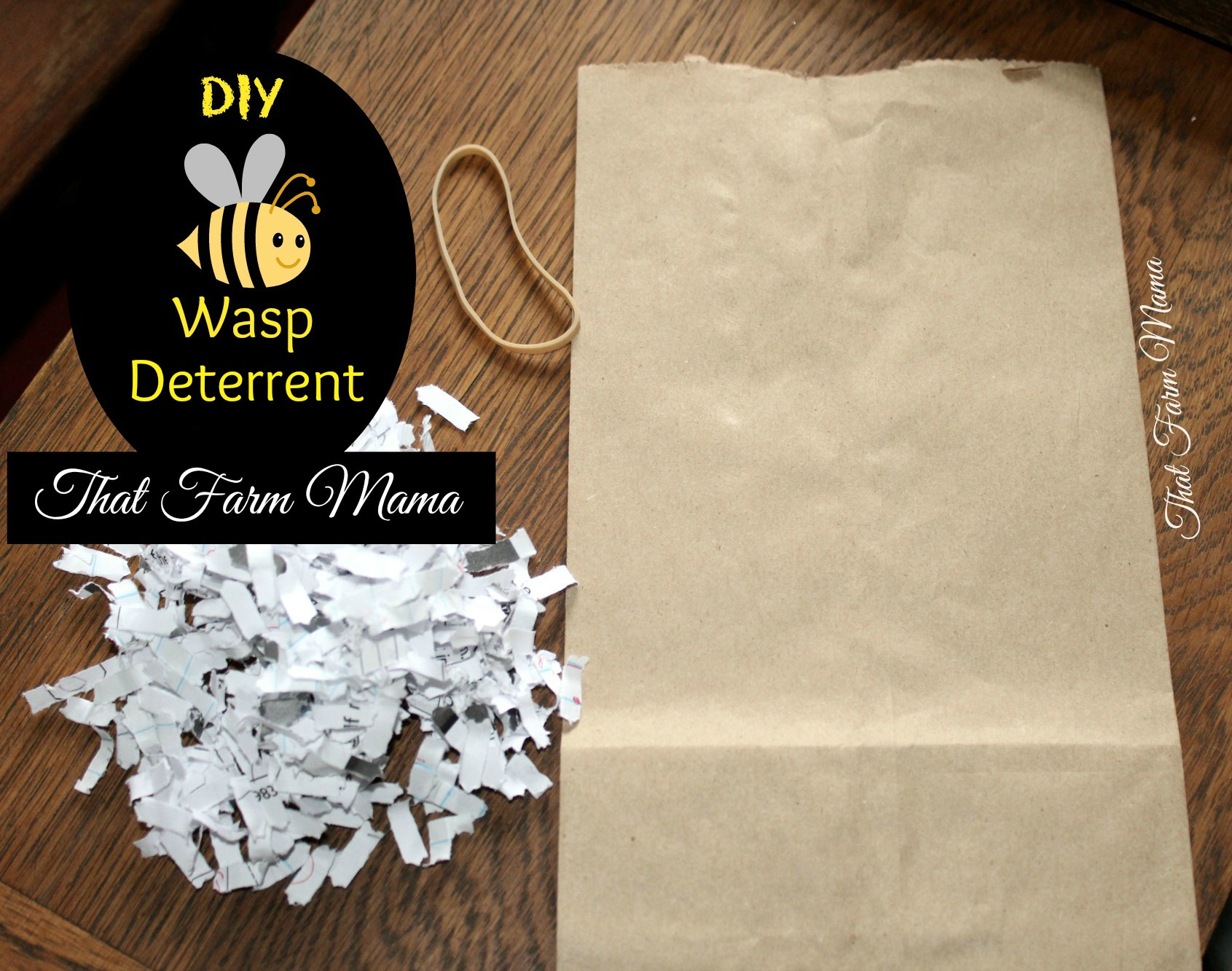 I love God's creatures. Most of them anyway. I'm not a fan of the sting-y ones, though.  Mosquitoes, those grey flies that like to bite you right at the back of the knee … and wasps.  I hate wasps.  Today, I'm going to share with y'all the most effective, cheapest, easiest, and most clever diy wasp deterrent EVER!
My husband is deathly allergic to bees and wasps.  So in the interest of keeping him – you know – alive, I have been looking for a way to keep wasps away from our outdoor spaces for a long time.  I've tried plastic bottle wasp traps, store bought bug zappers, sprays, etc., but I hated using chemical sprays (for many reasons) and none of them seems to work very well … or for very long.  Plus, they're expensive, as are most of the traps or other insect repelling *thingamabobs* on the market.  I needed a diy wasp deterrent that was affordable and effective.  And I found it!
DIY Wasp Deterrent
Brown paper bag – lunch sack size
Shredded paper, newspaper, plastic grocery bags (something to stuff in the paper bag)
Rubberband
Floral wire or twisty tie
Step One:  Fill your paper lunch sack about 2/3 full of shredded paper, newspaper or plastic grocery bags.  (I saved the confetti from our paper shredder to use.)  You want the bag to be puffy looking, but leave 3 or 4 inches from the top of the bag.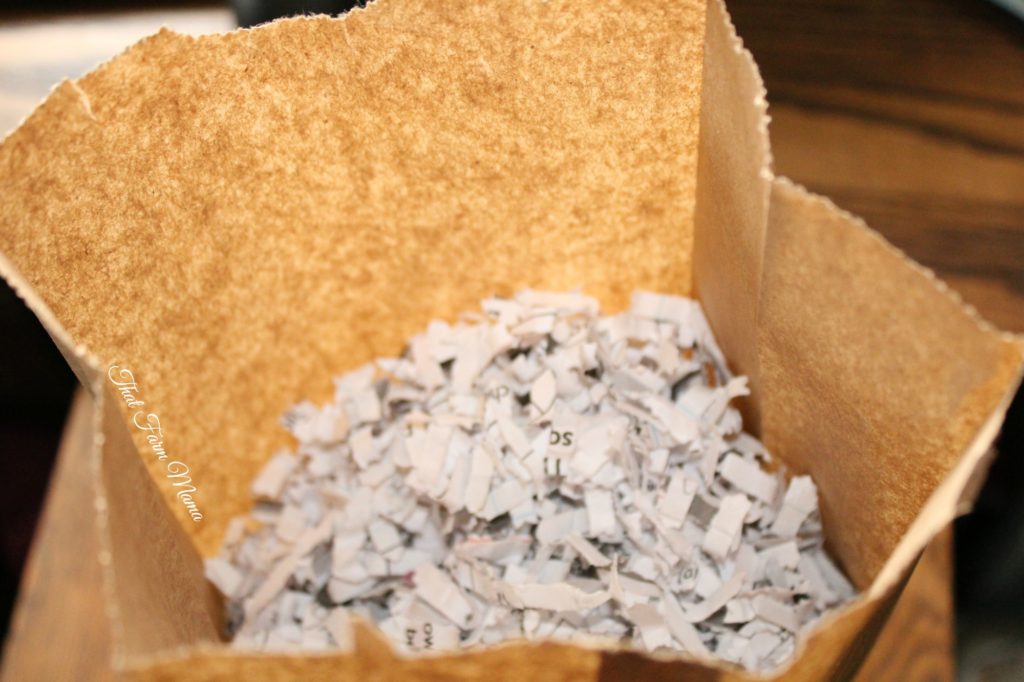 Step Two:  Twist shut the opening of the bag and secure with a rubberband.  (You could use string, twine, wire – whatever for this, I just found that a rubberband was quick and easy.)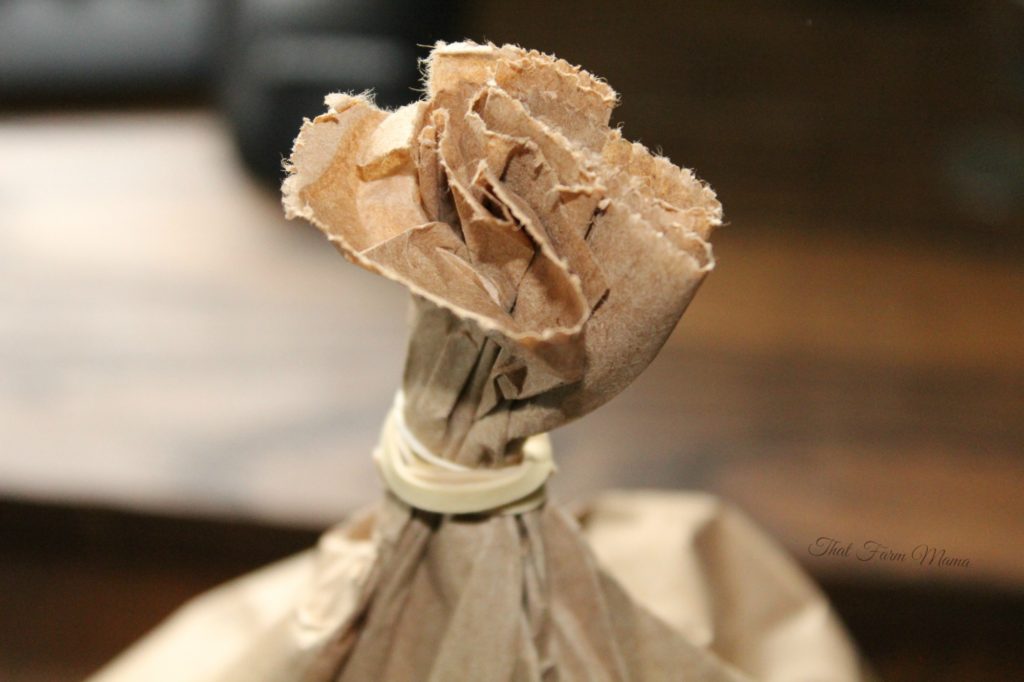 Step Three:  Slightly *scrunch* your bag so the corners are a bit rounded – you're trying to make it look like a hornets' nest.
Step Four:  Hang your *nest* anywhere you've seen a lot of wasp, yellow jacket, mud dauber, bumblebee or hornet activity.
A reminder to be careful!! If there is an active nest already in place, you may want to invest in a can of hornet spray initially, then hang your fake nest to prevent new colonies from forming in the future.  Or, hang your fake nest early in the morning while it is still too cool for them to come out.  I may be overly cautious, but, like I mentioned, if my husband gets stung, it's a long trip to the ER & I don't ever want to risk his safety!  Or that of my kids, for that matter — I have no idea if any of them are allergic to wasp or bee stings, as they've never been stung.  But the way my youngest daughter swells up from mosquito bites … makes me vigilant.  
Anyway …
I initially hung one of these wasp deterrent *nests* on the hedge fence by where we park our cars (a favorite swarming spot) and another on our front porch.  On a warm day, I've counted more than 40 wasps buzzing around our front door and the picture window near it.  NO ONE wants to go outside or come back inside through that gauntlet!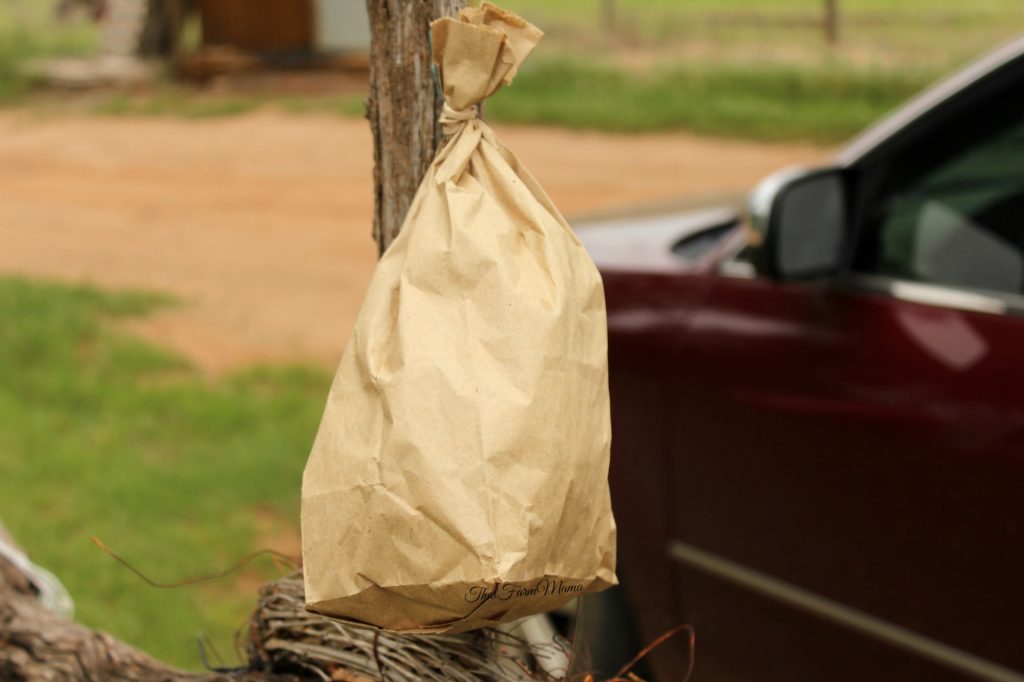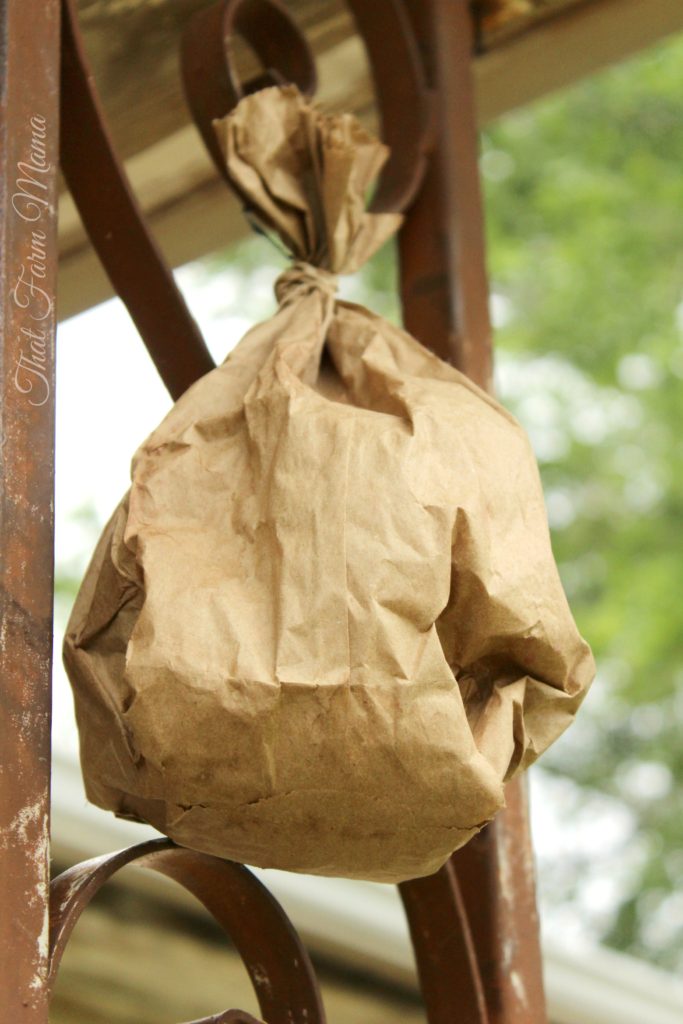 The very first day I hung them, there weren't many wasps about – it was later in the evening and the temperatures were dropping pretty fast.  But the next day as the sun rose higher and it began getting warmer, I waited for the wasps to appear around their favorite places.  And they didn't.  Not a single one!  I didn't tell my husband what I was trying, initially.  But after the second day of no wasp sightings, he mentioned that it was strange they weren't out because it had been warm and sunny.  I showed him my little piece of trickery and he was amazed.  Then he thought I was amazing and that was cool!
I have continued to put these little diy wasp deterrent nests out all around the house … one near the back porch door – another favorite wasp haunt …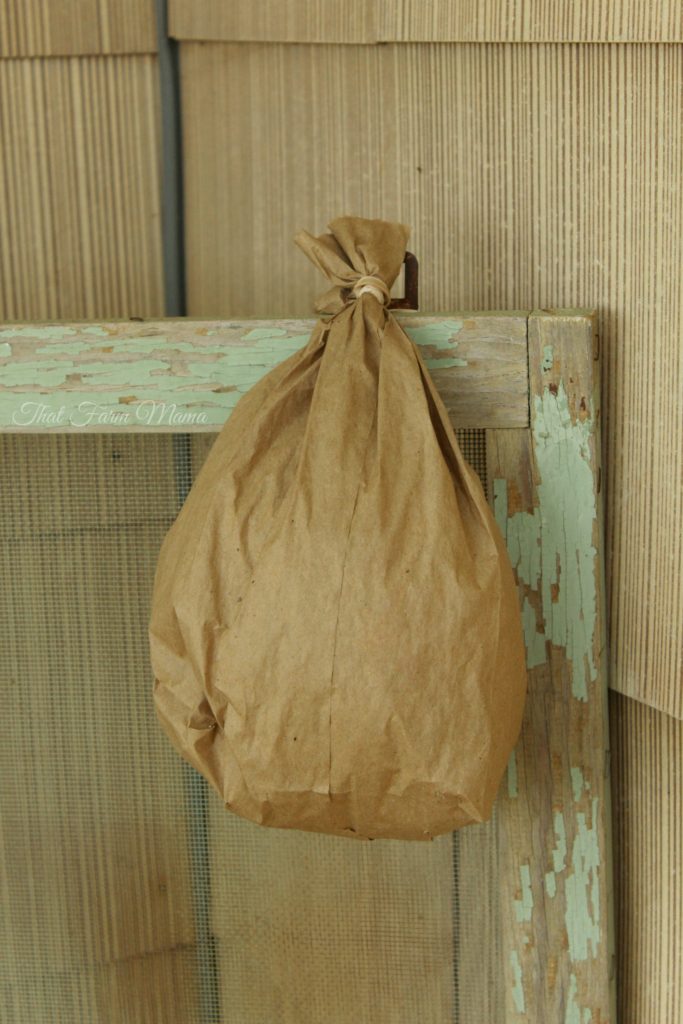 … I put two on the garden fence because it's hard to get much work out of my kids in the garden when they spend all their time dancing around trying to avoid wasps and bees.  One of these nests is between our camper and the garden and I'm hoping it will keep wasps away from the doors of the camper.
I hung another on the end of my clothesline pole.  Wasps LOVE to gather around me when I'm hanging cool, wet clothes on a hot day.  Sometimes they get tangled up in the clothes when I take them off the line and I bring them inside with me.  I hate that.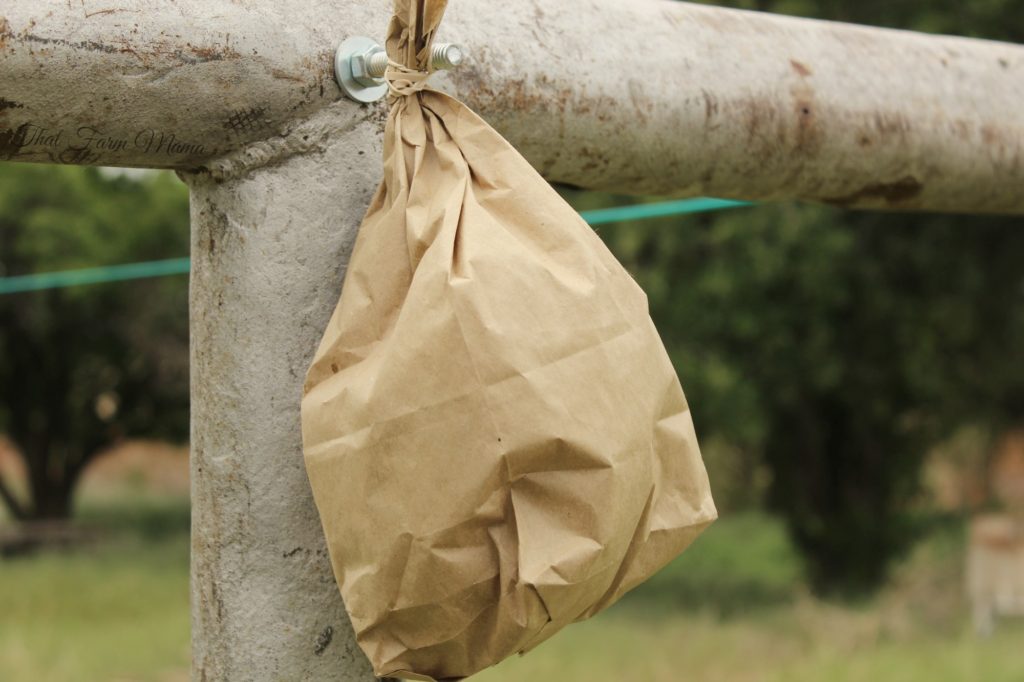 I have plans to hang a few more near the swimming pool when we get it cleaned and filled.  People get nervous when they're splashing or floating and wasps swoop in to get a drink.
Just because I've put these diy wasp deterrent nests all over the place, don't think I'm totally hating on our pollinating little friends.  I have several little 'fairy pools', dishes of water and the like around the place where they can get a drink during the summer.  And … my youngest daughter is planting a container Butterfly Garden for her Botany project.  We recognize how important bees and wasps are to our food supply … I just don't want them hanging around the places where my family and I are trying to relax and have fun!
So far, I've had the wasp deterrent nests up for a couple weeks.  I had to replace one that got pummeled by hail a few days ago, but the others are holding up just fine.  And best of all, there have been 0 wasp sightings in that whole time.  It's been so wonderful to work on the patio and take the kids out to play and not have to worry about angry bugs!
I hope y'all try these very inexpensive and super simple diy wasp deterrent nests – they are such a resourceful, all natural way to keep annoying and harmful pests away from your summer fun!  I am actively searching for a similarly clever solution to pesky mosquitoes, too … they are just the bane of my existence, I swear.  If any of y'all have found a great way to keep mosquitoes (or any other warm weather pests) at bay, let me know.  As you know, nature is great … as long as it isn't uncomfortable for me!  😀
Love & Blessings,
That Farm Mama