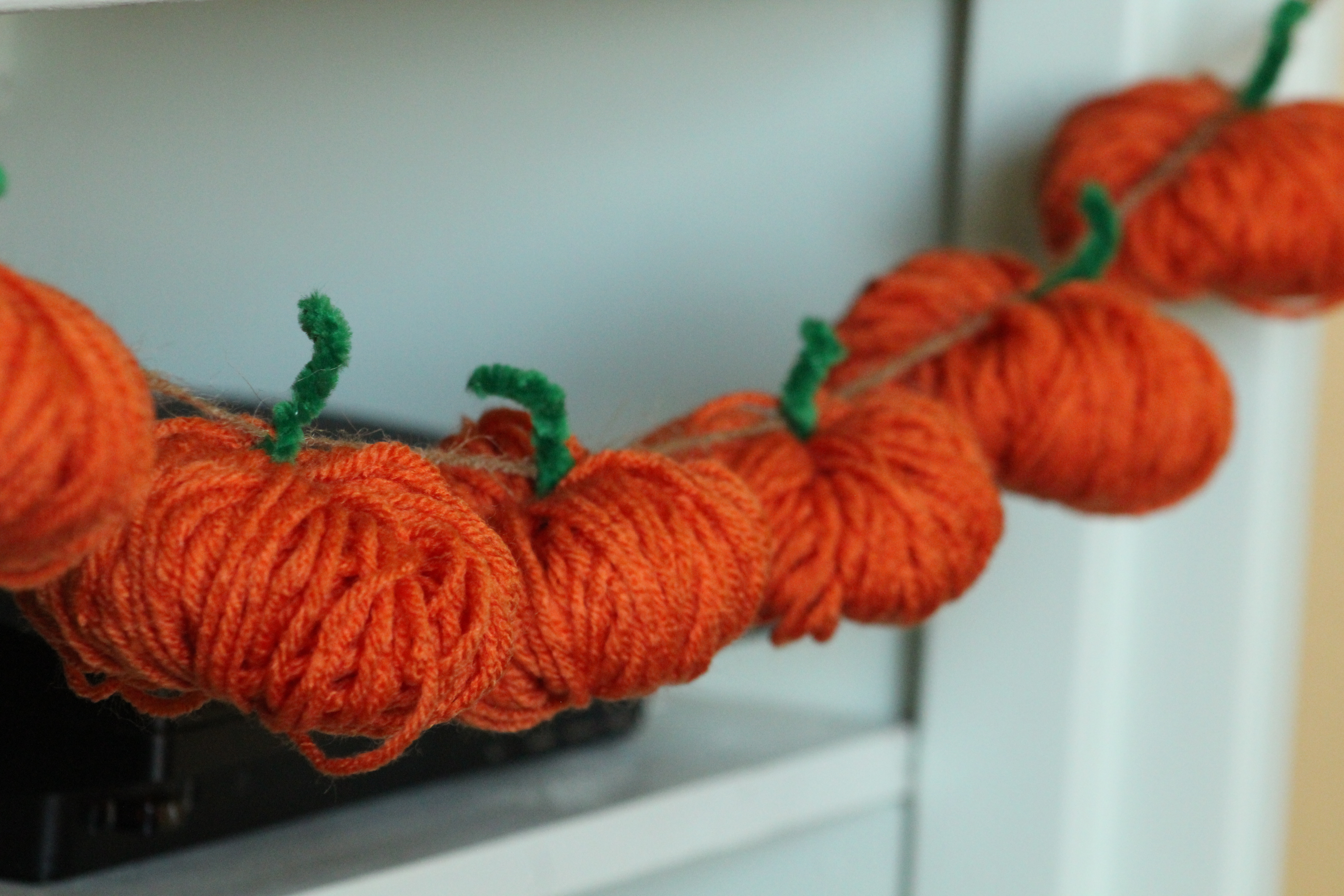 It's time to decorate for fall! This is my favorite time of year and I love to do it up right, but I don't want to spend a lot of money. This year, I challenged myself to spend less than $50 getting my home ready for fall. That's right – $50! I have done really well so far, and my absolute favorite project is this extremely budget friendly pumpkin garland that I saw on Pinterest and made myself for under $4.00. It's super easy and so cute I think I want to leave it up all year!
Here's what you'll need to make your own budget friendly pumpkin garland …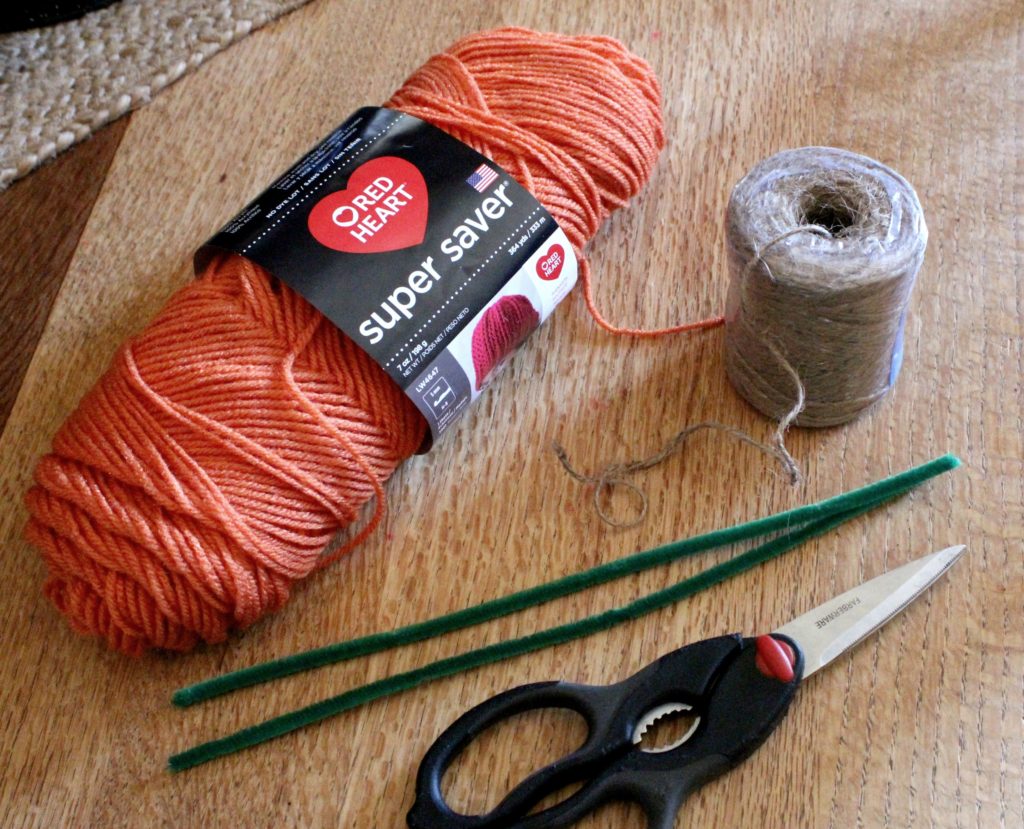 Yarn (use any type or color you want – I found this yummy pumpkin color on clearance for just $2.00)
Pipe Cleaners (or chenille stems)
Jute Twine
Scissors
Step One: Measure
Measure the area where you want to hang your garland and determine how many pumpkins you'll need. I made 6 pumpkins for my garland, (plus 2 more for this blog post and my little boy) and didn't even use half of my skein (360+ yds.) of yarn. If you're going to be making a ton of these pumpkins, though, you may need more than one skein.
Step Two: Cut, Wrap, Tie
Cut a piece of yarn about 10 inches long and set aside. Then, wrap the yarn around your hand about 100-120 times. Slide the 10 inch piece of yarn between your fingers, wrap around the middle of the yarn and tie. Turn the yarn 'pom pom' over and tie on the other side. Cut the end of the yarn from the skein.
Step Three: Attach the Stem
Cut a 3 inch piece of pipe cleaner. Center the pipe cleaner and tie the ends of the yarn around it. Bend the pipe cleaner in half and twist gently to form the pumpkin stem.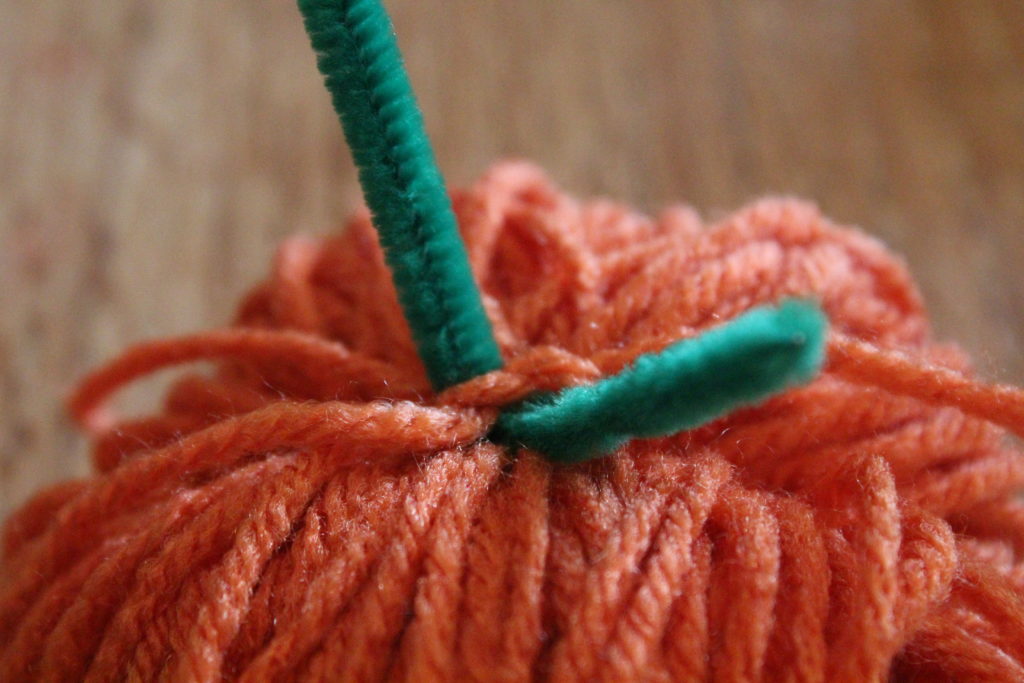 Step Four: Attach the Twine
Using the same yarn you tied the middle of the pumpkin & the pipe cleaner, tie your pumpkin to the piece of twine. I simply tied a knot around the jute twine and this allowed me to slide my pumpkins so they were nice and even on my garland.
Step Five: Tuck, Shape, Admire
Gently tuck the loose yarn ends into the 'body' of the pumpkin, smoothing and plumping the shape as you go. Voila – you have a completely unique and budget friendly pumpkin garland! (Or, as my 4 year old calls it, a 'punkman' garland.)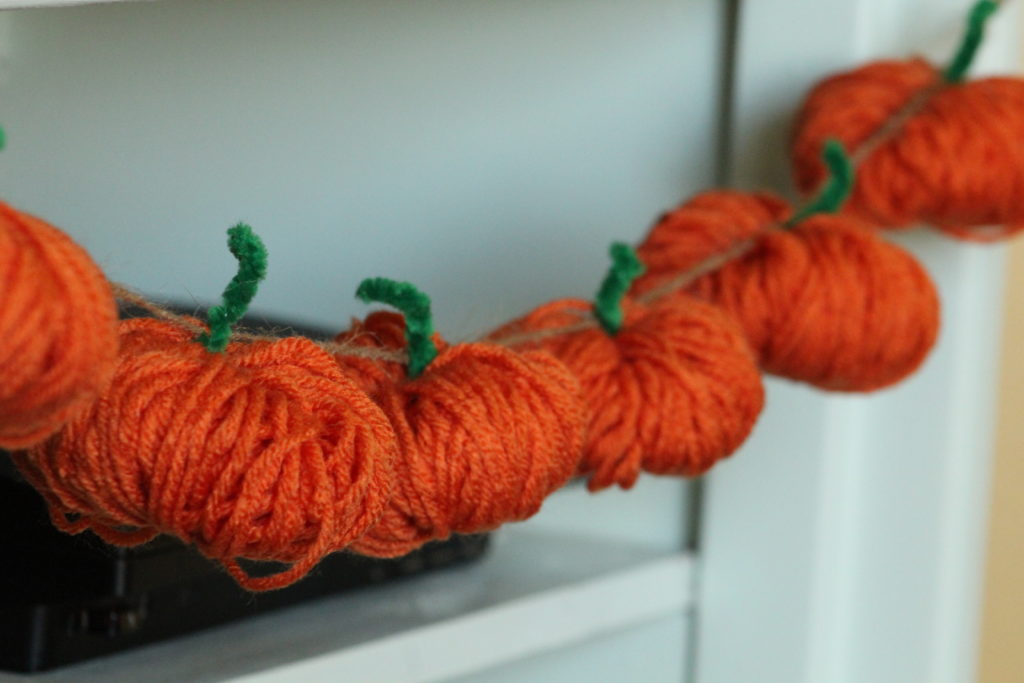 I am SO in love with this little budget friendly pumpkin garland!  Y'all – it's the highlight of my fall decorating, for sure.  When I saw the original tutorial on Pinterest I knew I HAD to make it and I'm so glad I did … the fact that it is so inexpensive is just a bonus – it really is something I will love using year after year.
I hope you try making it for yourselves.  I can see how cute it would be, too, using different shades of orange or other colors to make a fall rainbow of yarn pumpkins! (Y'all know pumpkins and gourds come in a huge variety of colors, right?!)  I don't know (though I might try it myself and find out) if you could even use a heavier weight of yarn and make larger pumpkins?  Ooooo – so fun!  Right now, in addition to the garland, I have two more little 'punkmans' sitting out on tables – they are so precious!
Y'all – I am going to be sharing some of my other favorite budget friendly fall decor ideas and projects with you soon.  I'm EXCITED to be back blogging after this very trying year, and fall (my FAVORITE season!) is just what I needed to bring the joy.
Don't forget to share some of your favorite decor ideas for fall – I love to see your creativity!  In the meantime, enjoy the season and come back soon!
Love & Blessings,
That Farm Mama