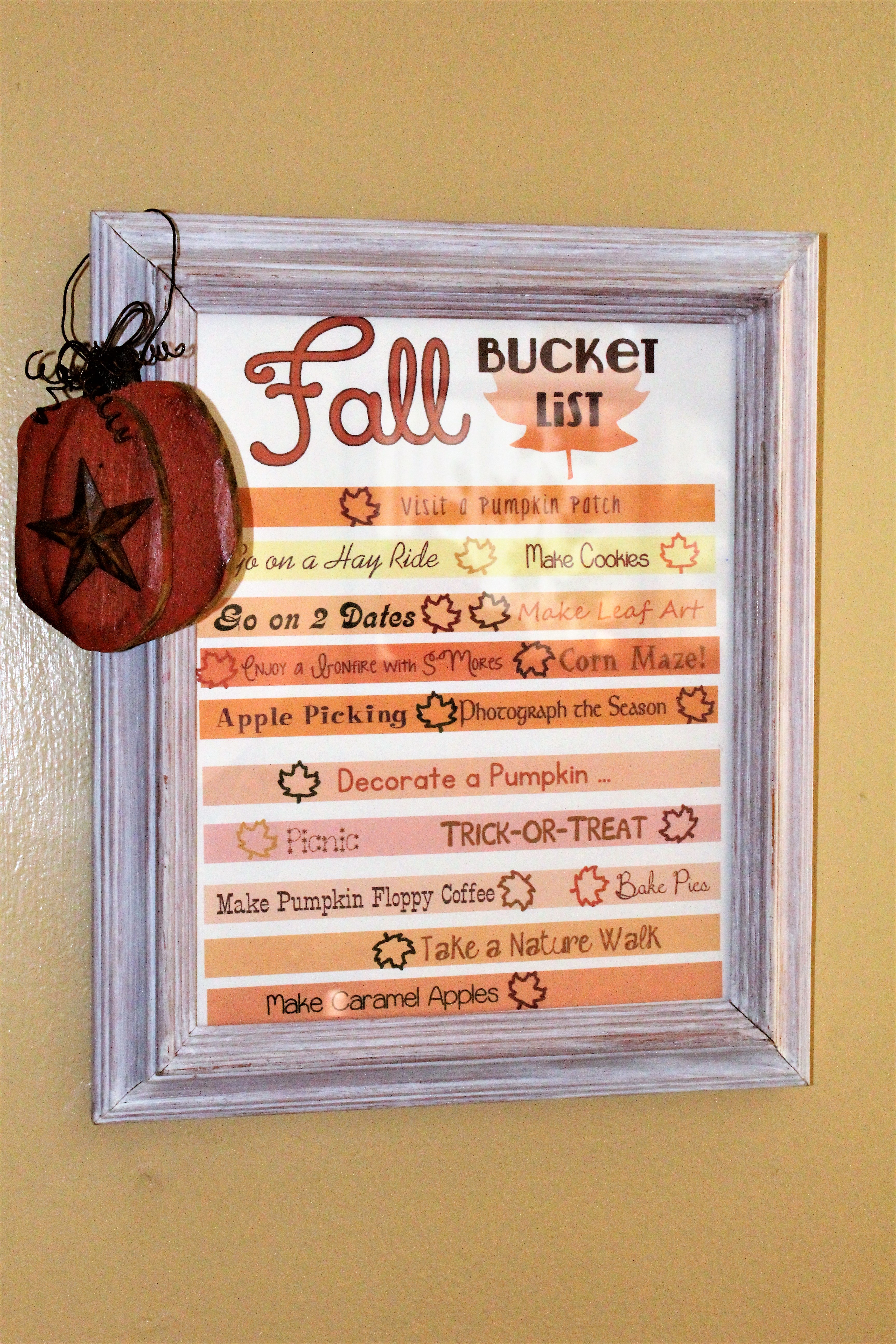 Hello, my Lovelies! I hope y'all are having an amazing fall so far! I spoke in my last post about my self-imposed, super small fall decorating budget this year. Today, I wanted to share with you  my favorites among the decorating ideas I've put into action.
While fall is my very favorite time of year, I usually don't decorate my entire house.  This is mainly due to the fact that our house is SO small – there's simply not room for me to store a lot of seasonal decor to switch out in every room.  I mostly concentrate on the main part of our house, which is basically our family room and dining room/kitchen.
In the Dining Room/Kitchen …
I didn't put out much … again, just not very much room.  But. This jar.  Oh, this jar.  It is my pride and joy, y'all!  It's a butter churn jar that I also found in our basement last year.  My Grandma (bless her!) had saved an industrial sized mayonnaise jar lid that fits this jar perfectly and my husband painted it white for me.  (I don't even have a clue what that woman did with so much mayonnaise! lol) In keeping with my super small fall decorating budget, I picked up 2 1-lb. bags of dried red kidney beans, and a 1 lb. bag of dried split peas at the grocery store for around $3 total.  I had a large bag of popping corn in my pantry already.  I simply layered everything into the jar.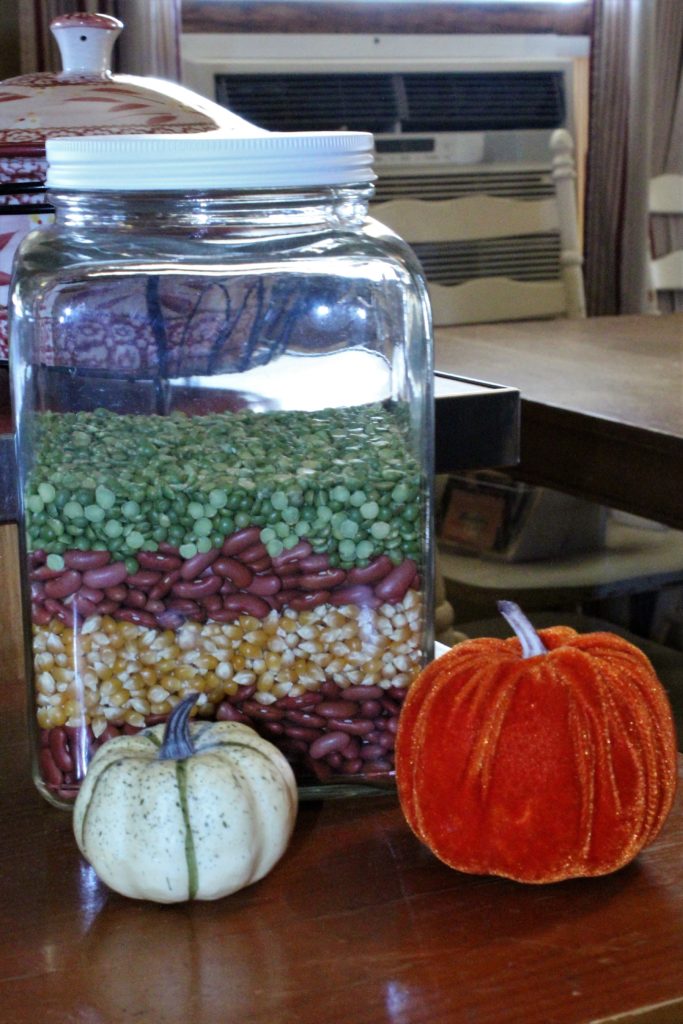 The little velvet pumpkin, is, quite frankly, the gem of the season as far as my kids are concerned.  They cannot pass by this table without petting it, picking it up and rubbing it on their cheek, or snuggling it.  It's that soft.  It was another $.98 find at Walmart.  The fall jar and the velvet pumpkin (as well as a few other little seasonal touches) sit on top of a very hardworking cabinet that separates my kitchen from my dining room.  I style the top seasonally, and have had a lot of fun with it!
In the Family Room …
I tend to decorate the most.  We spend most of our time as a family here, and it is the first room visitors see when they come into the house.  One of my favorite additions to this room, ever, is this very large window, which we hung on the wall.  If you follow me on Instagram or Facebook you've probably seen it decorated for various seasons or holidays.  Earlier this spring, I was looking for a very inexpensive and creative way to decorate this window and came across the idea of using tissue paper and spray starch.  It worked so well, I used the same method to decorate for summer, and now, for fall.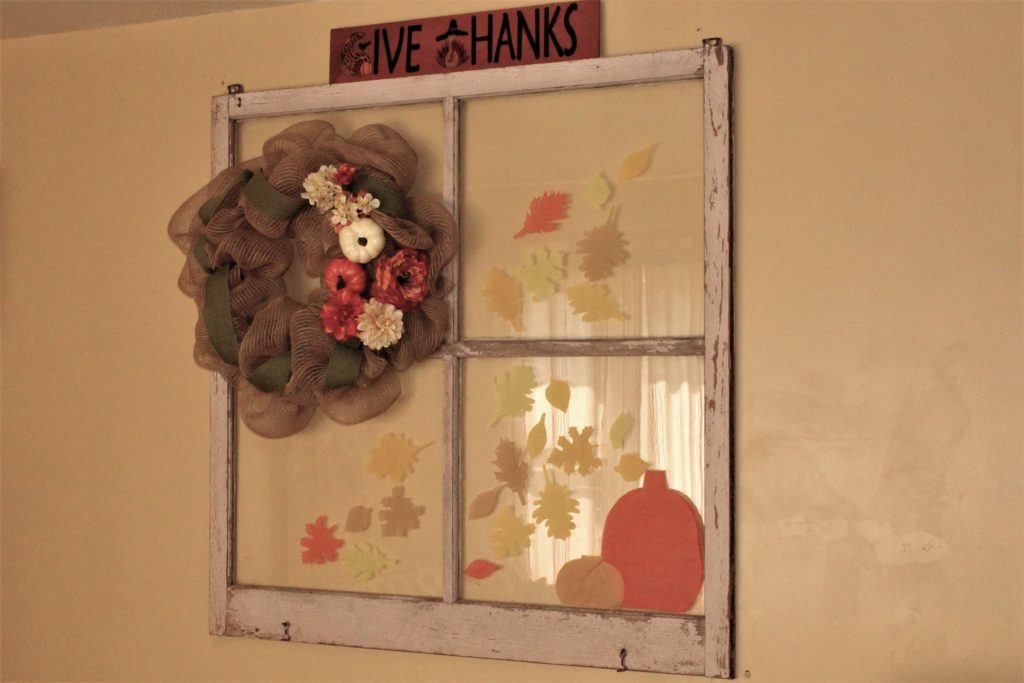 I made templates of fall leaves and pumpkins, traced them onto some fall-colored tissue paper I already had and then cut them out.  To 'stick' to the window glass, I simply sprayed a bit of spray starch on the glass and then gently (very gently) laid the tissue paper cutouts onto the starch.  Once the tissue paper is wet, it will tear super easily, so I was careful to place the cutouts as close to exactly where I wanted them as possible. To make more 'realistic' colors of pumpkins, I glued two different shades of paper together with a glue stick, then used the spray starch to attach. Clean the excess starch from the area around the paper decorations using a damp cloth or paper towel, again, being careful not to catch the edges.  I used some of the extra pumpkin and leaf cutouts to decorate our other windows, too.
I'm going to be honest — I am in love with this method of decorating on glass.  It is incredibly budget-friendly … tissue paper is CHEAP at places like Dollar General or Dollar Tree, or even Hobby Lobby.  The possibilities are absolutely endless — I've already started thinking about all the things I can do with other holidays and seasons.   Cleaning this up is a breeze: I spray a little bit of my diy multi-purpose cleaner onto the tissue paper and it peels right off.  Then, just clean the glass as you would normally.  If your decorations come off intact, you could even reuse them, but I was in a hurry taking my summer design down and tore everything up.  lol  Though, again, so inexpensive to make from scratch!  Note: I did actually put the templates I made of leaves, pumpkins, etc. away to use again.  No sense making more work for myself next year, right?
Easy DIY …
A necessity when you are on a super small fall decorating budget, is the DIY.  This idea I'm going to share with you today is my favorite.  Seriously.  My absolute favorite. I even made a separate post about it!  It was unbelievably cheap, easy, quick, and most importantly – adorable.  This pumpkin garland will change your life.  Maybe not your life, but, it will definitely take your fall decor to a new level of fabulous.
I found the original idea on Pinterest (I know, what would we be without it, right?) and immediately knew I wanted to make it.  I had most of the supplies on hand, but needed the right color of orange yarn – which I found at Walmart on clearance for just $2.00.  Yay!  I hung the garland across my tv console where it adds a great touch of fall. (I've since replaced the rock on the bottom shelf and added a gorgeous ceramic pumpkin I found at an online garage sale for $3 for even more fall-ish festivity.)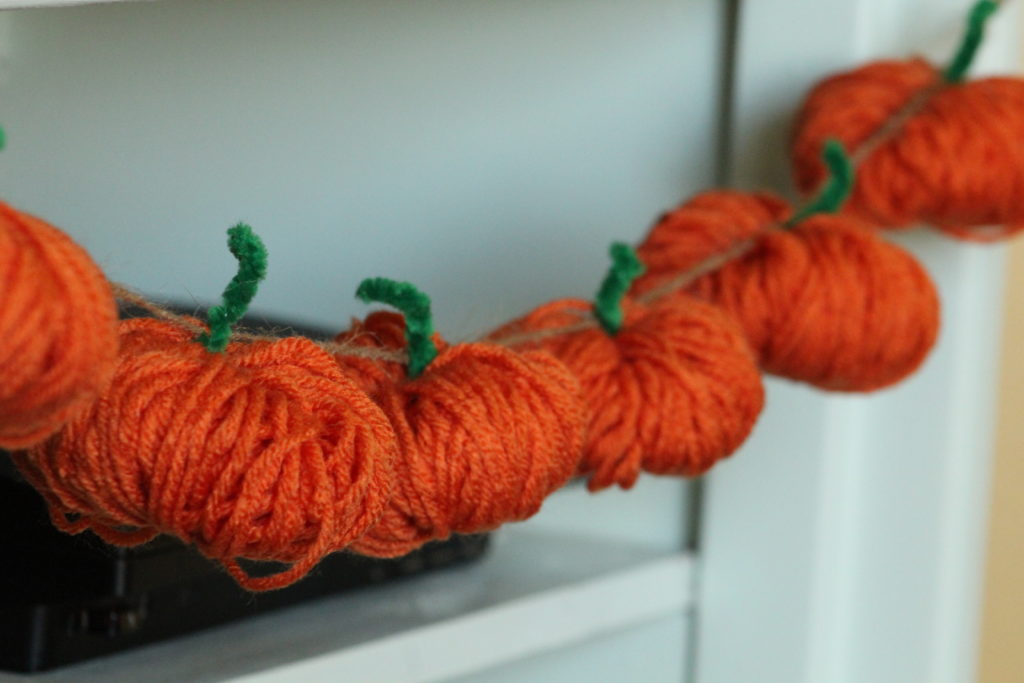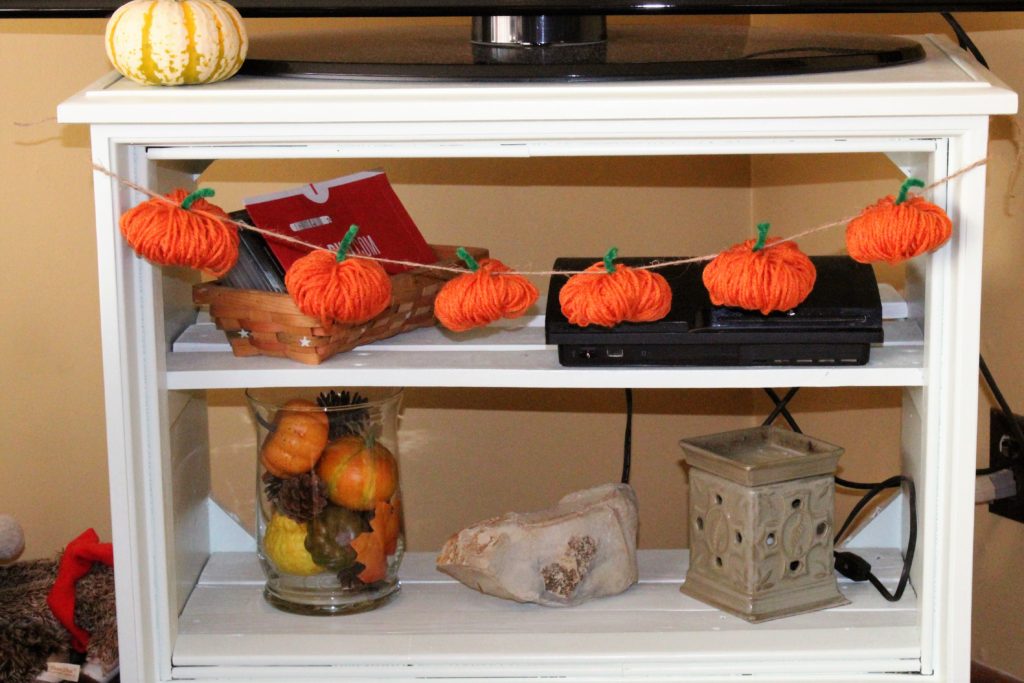 It is so darn cute, Y'all!  And I love how fast it came together – I made the entire garland it less than 20 minutes.  My little boy loved these 'punkmans' so much that I made an extra for him to decorate his little desk.  I have thought about getting a couple of other fall-ish colors of yarn and making another garland with multiple colors of pumpkins.  I think there are a lot of possibilities here!
I've added other fall  touches (DIY and purchased) here and there … simple things like fall flowers in pots, empty candle jars with gorgeous fall labels and/or lids, more pumpkins of various sizes, shapes, materials, and signs, because I love signs.
Another easy and inexpensive DIY I have out all year is this 'bucket list' sign that I made.  Right now, it's a list of fun fall activities, but I have a printable for each season and I store them in the frame, behind the current season's list.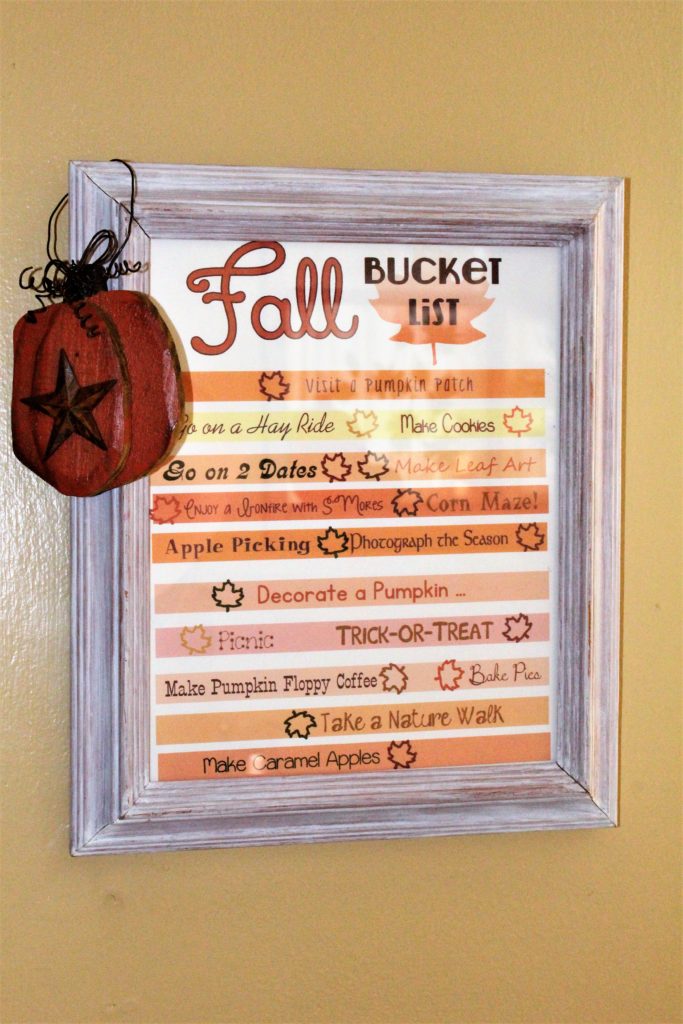 We rarely complete all the activities on the list, but it's fun to try and get as many in during the season as possible.  The kids like using dry erase markers to fill in the little leaves next to each activity as we complete it.
I created the sign myself on my computer, and painted white an inexpensive picture frame I already had, so this was basically a free project.  If you have a computer, you can create something similar – or find a free printable online to download and use.  I wanted to customize all the things we love to do in the seasons so I made my own. Whichever route you go, this is a great decor item that the whole family can enjoy.
How's That for a Super Small Fall Decorating Budget?
Well, y'all, there you have it — my favorite ideas for a super small fall decorating budget.  I set a goal of $50 or less for this year and so far, I've spent $39.73.  I'm pretty much finished decorating inside the house – I just need to do a few things outside.  Once I get going there, I'm pretty sure I'm going to go a little over the $50 budget because I need to purchase some new artificial flowers and possibly new twinkle lights, if mine from last year don't work.
Also, that total so far does not include candles, essential oils, or wax melts to make my house smell amazing.  I have a separate budget for that and will be sharing some of my favorite fall fragrance ideas in another post.
But.  I hope I have given you some great ideas for getting creative and making your home ready for fall on a small, small budget.  It can be done!  And if you can make your home look festive and welcoming for less, why wouldn't you??
Be sure to follow me on me on my social media, and comment on this post to let me know about your favorite decorating idea!  Happy Fall, Y'all!!
Love & Blessings,
That Farm Mama