Hi All –  I'm Sharon.
I grew up a farmer's daughter.  But what I really wanted to be was … a famous journalist with my own TV talk show.
I started writing & reporting the news around age 5.  My first 'beat' was informing my parents of any and all activity carried on by my older brother.  After spending some time doing movie and book reviews for my studio audience (my dolls and stuffed animals), I moved on to  profile and human interest segments featuring our miniature poodle, Gigi.  Eventually, I settled into what I loved the most – the interview format.  My favorite subject for these Q & A sessions was my grandma, who always encouraged me to follow my dream by exhibiting more patience than imaginable with my ceaseless questions.  I interviewed her on pretty much a daily basis, as I would stay with her while my mom was at work and my dad was farming.  I did biographical interviews, how-to segments, popular culture chat sessions and more, recording her answers with a pencil and notebook or my trusty cassette recorder.  As I honed my investigative journalism skills, I gained a wealth of information about her life, her thoughts, her talents and her homemaking secrets.
After high school, I could not get far enough away from the farm fast enough.  I shook the red dirt off my heels and headed to the city to attend journalism school.  I quickly found out that I was not, as a personality, cut out for the cutthroat world of the fourth estate and quickly changed my major to the kinder, gentler realm of English Literature.
While pursuing a career in finding a job I loved that would provide me financial security while giving me the time I needed to write my best-selling novel, I moved even farther from the farm – 4 states away.  I put my education to mediocre use by working in the music and entertainment industry (as an office manager), high finance (as an assistant in a brokerage firm), human resources (as a placement coordinator for a temp agency), and professional sports (executive assistant to the GM of an arena football team).  My salary was never able to measure up to my idea of fine living.  I struggled to make my apartments or townhouses look and feel more pulled-together & less dorm-room.  After remembering my practical farm-girl upbringing, I started employing my domestic skills – sewing, crafting, painting, etc. – to frugally add style to my surroundings.
Then I married my husband and moved within 50 miles of my hometown.
Like most newlyweds, our budget was small.  But my vision for our home and lifestyle was … not small.  I began to put some of the childhood lessons learned from my beloved grandma to use, turning our generic starter house into the home of my our dreams.  After the birth of our first child, I quit my part-time newspaper job (finally scored that job in journalism – yeah!) to be a stay-at-home mama.  With an even smaller budget than before, I really needed to up my frugal living skill-set.  And when our second child came along, I tackled fancy living on a budget like I was Art Shell in cropped pants.
In what has to be one of the more ironic pathways of my life, we moved, several years ago, to the farm where I grew up … into my grandparents' house.  I honestly don't even know how I ended up here, in this place I fled from so long ago (with NO intention of ever returning for more than a day or two).  But here I am.  I know, I know … full circle … blah, blah, blah …
In a nutshell, we live in a very old, very small house built for two retired adults.  We are now a family of six, plus an Irish-Viking dachshund with a beard.  It's … cozy.  It's also not our forever home.  But in the meantime, I've spent the last 10 years trying to turn it into a functional, beautiful, comfortable haven for our not-so-little family.
I started this blog several years ago, mostly as a creative outlet – a place to record all my little projects, my thoughts on various subjects – a journal, really, for myself and maybe my kids to one day read and learn a little bit more about their mama.  I posted about my decorating ideas, recipes, money-saving methods, helpful home schooling tips (did I mention we're home schoolers?), home remedies, etc., with the express idea that no one would ever read them but my friends and family.
But.
I got to thinking one day, that maybe there were other people out there who were in circumstances similar to mine — living in a house that wasn't exactly what they wanted, trying to make ends meet on very small income.  And, maybe, like me, they were feeling frustrated because the only 'budget-friendly' homemaking advice they could find was for people who have a budget of a few hundred or a few thousand dollars, rather than, like, $15.00 for the whole room.
So this blog is for everyone who, like me, has champagne taste but a tap-water budget.  Because some of us can't even afford the beer-budget.  And it's also for anyone who wants to learn how to have what they want on their own terms – maybe you have some cash, but can't justify spending it on a pricey duvet cover or brand new genuine antique-look *name brand store* apothecary table.  I want to share my favorite tips and tricks, money-saving, time-saving, practical farm-girl advice for making whatever house you're in, home – whatever circumstance you're in, beautiful – so you can bloom wherever you're planted.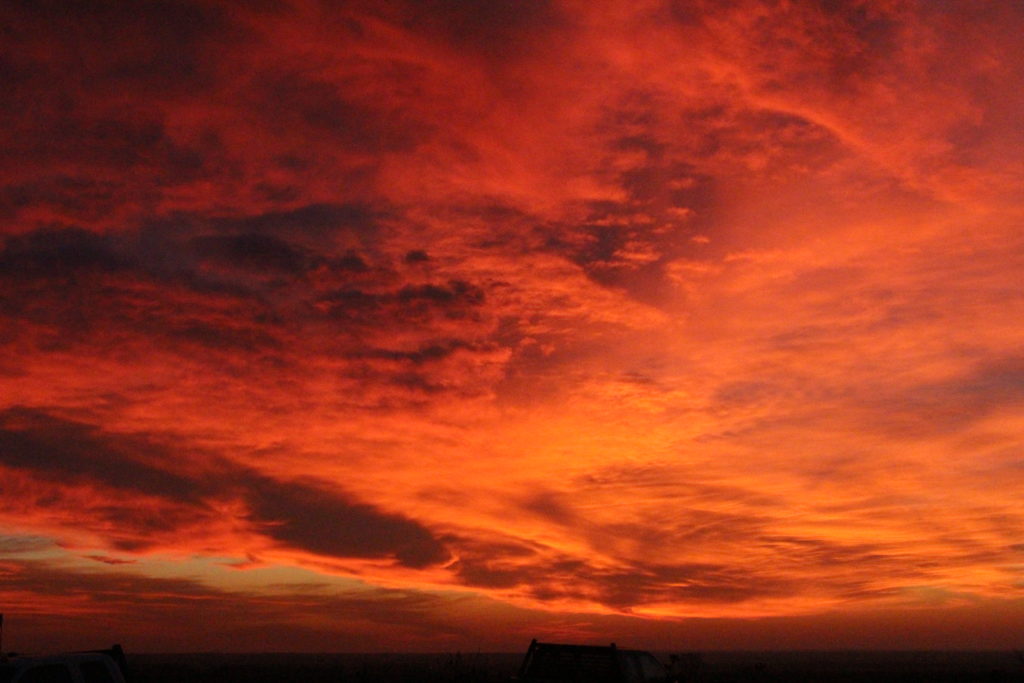 Here's what I know for sure:
Life is beautiful – even when it's covered in good 'ole red dirt.
Husbands and kids and dogs and cows make a day interesting.
Never underestimate the restorative power of a perfect sunset.
Write stuff down because someday, someone who loves you will want to know it all.
Praise God every day for the little moments, because when you look back, you'll see they really were the biggest moments.