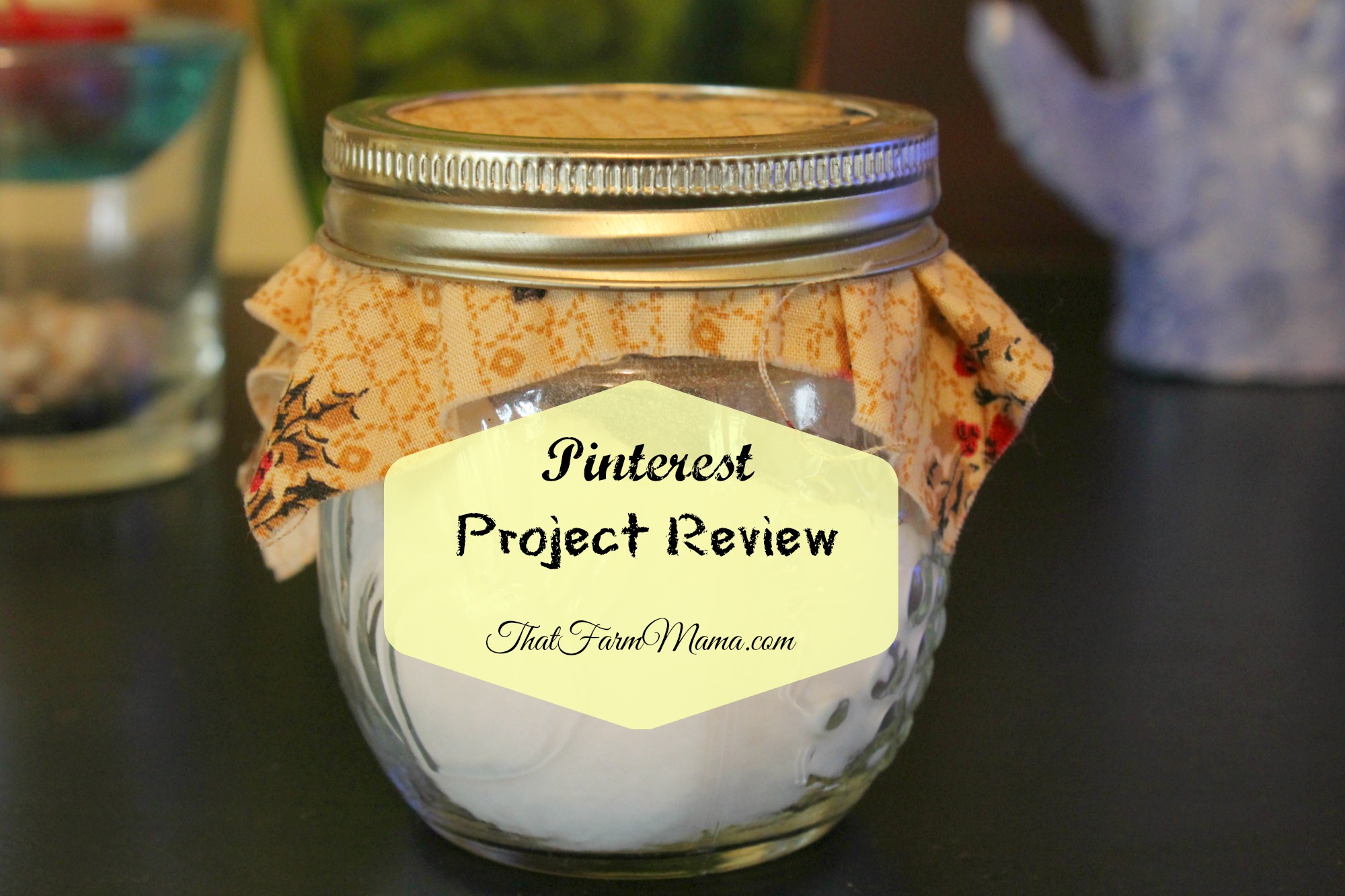 If you follow me on Pinterest, you are familiar with my 'Pins I've Tried' board.  This is where I normally put all the crafts, projects, recipes and ideas I've tried – hence the board title.  I always add a few notes about my experience for the next potential pinner.  But today, I'm stepping out a little and doing a full-on Pinterest project review, which I hope to start including regularly in the blog.
Today, I'm talking about an air freshener idea that I didn't actually pin, but did find on Pinterest a few weeks ago.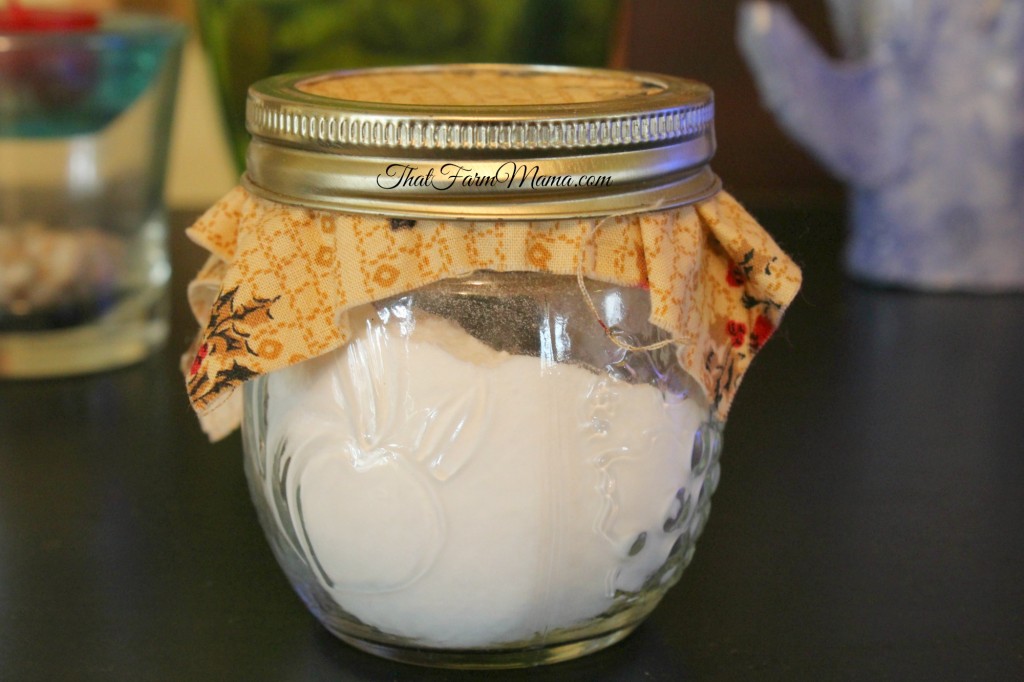 I got excited about this Pinterest project for several reasons.
It was inexpensive.  I am all about saving money, what with it not growing on trees in our yard and stuff.
It was all natural.  I've been a devotee of the natural approach to household cleaning and personal care for years.
I had all the ingredients I needed on hand.  Is there anything more frustrating than seeing a great idea on Pinterest (or anywhere else), getting excited about doing it right away … and realizing you're going to have to plan a shopping trip to get the supplies needed?  Not for me, there isn't.
It addressed a problem that is of utmost importance to me – effective elimination of bathroom smell.
First of all, let me say, it is well documented on this blog (and if you know me) that I am a professional penny pincher.  We have a large family, supported by one income that fluctuates seasonally – so "really affordable," "frugal," and "cheap" are some of my favorite things.  This air freshener required essential oil and baking soda, which are affordable and also some of my favorite things.
About 25 years ago (really, I was just an infant at this time), I decided to rid my home of chemical-filled cleaning products and go the natural route.  Since then, I've expanded my desire for an all-natural home to include personal care products and household cleaners that I make myself.  It's a win-win because I'm creating a healthier environment and saving money.
Sometimes, when I'm surfing on Pinterest, I come across an idea or project that just makes me so excited to try it that I actually get off the computer and go gather the supplies so I can make it right now.  It's incredibly irritating when something claims to be simple and quick, but requires a long list of ingredients, most of which I hardly ever have in the house.  Which is the main reason my foray into soap-making is taking so darn long!  
One of the things most important to me is that my house not only be clean, but smell clean, too.  And even though our one and only bathroom is clean … it often doesn't smell that way.  Part of it is the fact that it's carpeted.  (I know, YUK! right?  I guess my Grandma wanted a warm floor more than she wanted a sanitary one.  Blech.) And part of it is because there are 6 of us sharing the one room – 3 of us are boys.  And then there's the whole 'no ventilation' thing, which means if you don't constantly run a space heater and/or open the window, the room (along with the shower curtain, bath mat, and ALL the towels) stays damp and icky smelling.  So I wanted something to help keep the bathroom (by far the stinkiest place in our house) smelling clean in between cleanings.
I've been using my own DIY recipe for a Toilet Pre-Spray that I've talked about before on the blog.  It works amazingly well to prevent certain odors from taking over in the bathroom … temporarily.  But if you have kids – especially boys – you know how the bathroom tends to have that boy smell all the time, even after business has long since been conducted and 'aired out'.
So.  Here we go.
The Recipe:
1/4 cup baking soda
8-10 drops essential oil (I chose Lemon, Orange & Pink Grapefruit)
1/2 pint glass jelly jar with ring
fabric (I used a 4″ x 4″ square of some quilting fabric I had)
You can mix the baking soda and essential oils together in a separate glass bowl, or directly in the jelly jar, like I did.  I put my soda in the jar, dropped essential oils over and then put the lid (ring & clean, used flat) on and shook the tar out of it until I felt like the oils had been adequately mixed into the soda.
     Next, I laid my square of fabric over the top of the jar (without the flat) and screwed the ring on tightly.  The end.  That was it!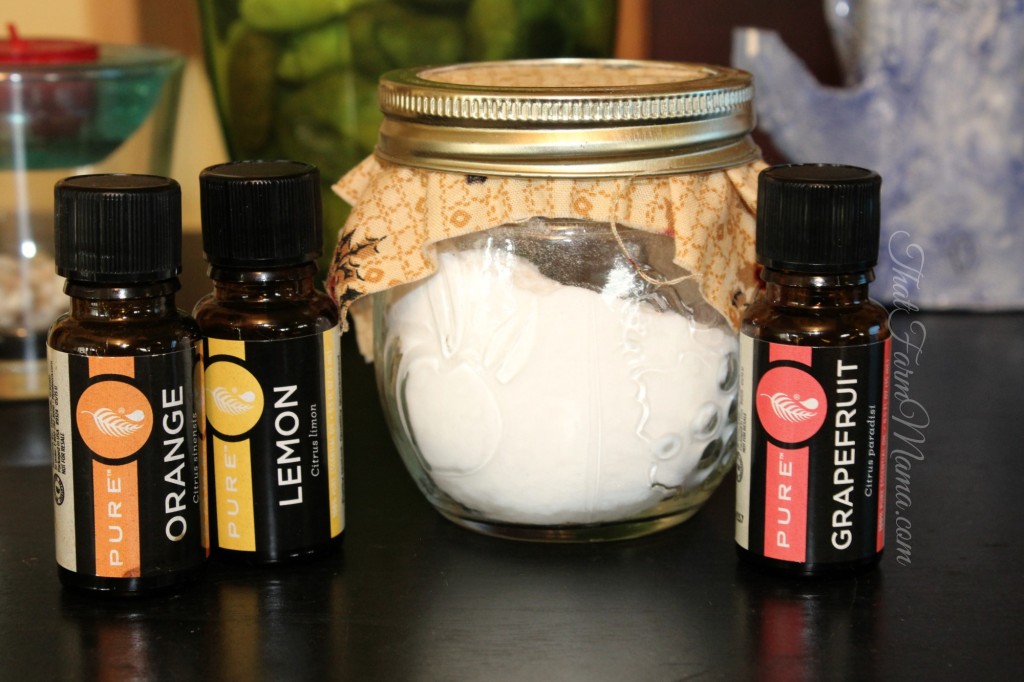 The fragrance was not overpowering, but was pretty strong – I added 10 drops each of the three oils I chose.  I put the jar in my bathroom and waited for the freshness to happen.
Boy, was I disappointed!  🙁
Even after shaking the darn thing, it did nothing to make my bathroom smell nice.  Nor did it absorb any odors that were already lingering.  (You know what I mean!)  I left it in the bathroom for over a week, stepping in to shake it every time I went by, and it. just. didn't. work.  At all.  🙁
I was extremely glad not to have spent any money on this project.
So.  To wrap up this review … the DIY air freshener was super cute looking, but did not keep my bathroom smelling any fresher.  To be fair, it's possible that the combination of 4 children, a carpeted room, a dog who insists on 'supervising' every trip to the bathroom, were simply too much handle.  I might try this idea again if when we take up the carpet and replace it with a hard surface flooring.  But overall, I felt like I wasted my time on this one.  At least the ingredients were not wasted … I dumped the scented baking soda out on the bathroom floor, let it sit and then vacuumed it up.  Now that actually seemed to make things smell a bit nicer … for a day or two.  I washed the jar, put my fabric square back into my quilting stash and it was like all this never happened.
If you've tried this project yourself and had a different result, let me know.  Did you use a different essential oil?  Did you use a different kind of fabric for your top?  Did you get rid of your children and then put the freshener in the bathroom?  It's such a very good idea and I would love to be able to get a fresh smelling bathroom without having to rush in there to clean the second someone comes out.  lol
I'm looking forward to sharing lots more reviews of Pinterest project I try.  And I would REALLY love to hear (and see pictures!) of projects y'all have tried, too!  Come on — the good, the bad, and the ugly — share, share, share!  We're all friends here, and who better to understand the triumph of a DIY success … or the agony of a DIY total fail, right?  😉
Love & Blessings,
That Farm Mama