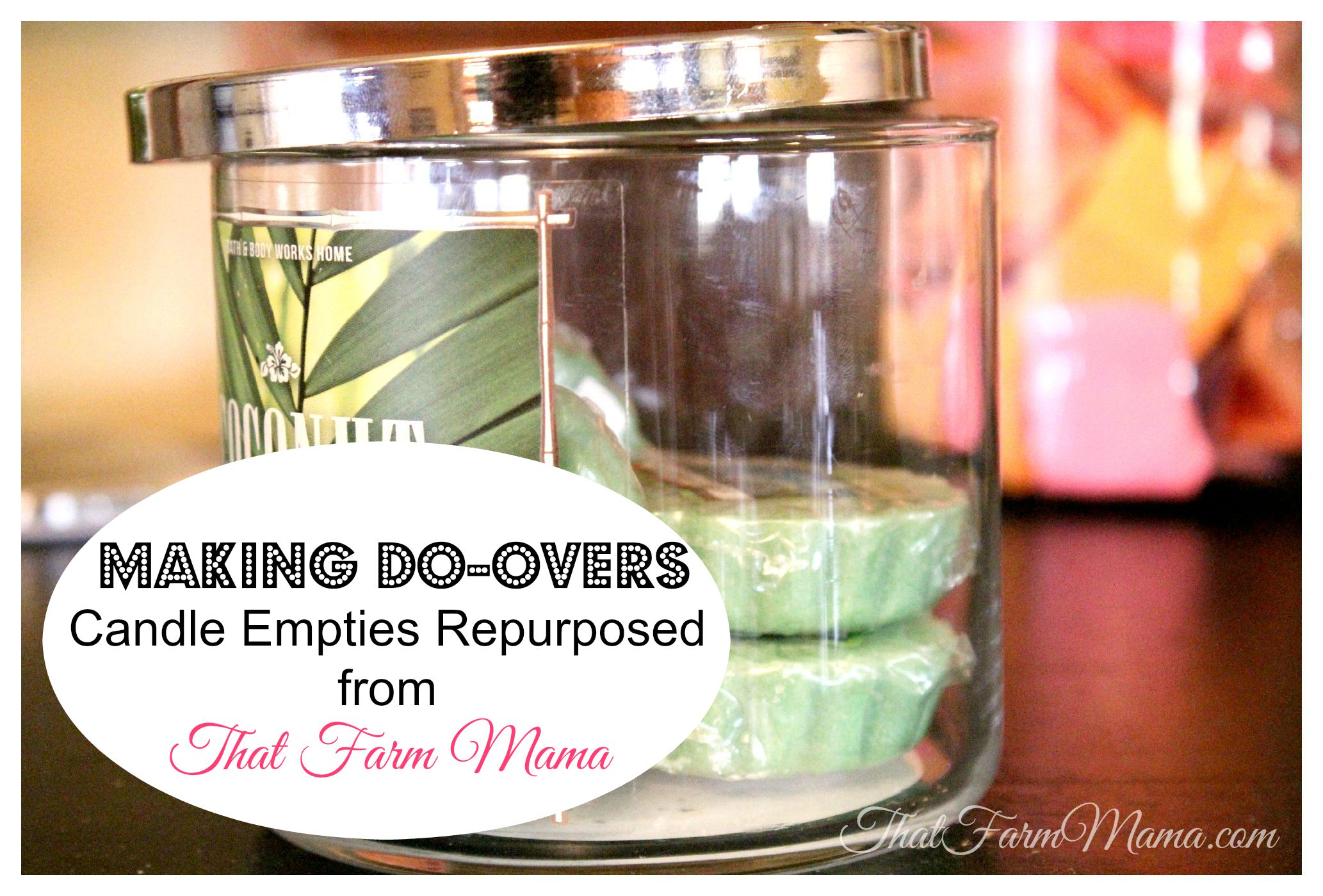 I've talked on the blog before about being frugal. Many times, I've referenced my penchant for what I call 'making do'.  Of course, it's helpful that I'm one who enjoys finding new purpose for an old thing and turning what I have into what I want or need it to be.
A lot of my 'making do' overs involve creating decorating or organizational pieces for my home. While decor might not be considered a necessity by most people, for me, it certainly is.  We spend a lot of time in our house and I want it to be as comfortable, inviting and restorative to my family as possible.  And organizing … oh, how I love to organize, categorize, list, plan, tidy and make everything just so!
I recently tackled a project that has been nagging at me on a daily basis — what to do with all the wax tarts I've been collecting (on sale!) over the summer.  They are taking over the closet in the hallway!  And while all the sheets and towels and cotton balls and feminine supplies I also store in this closet smell fantastic … it's a little hard to find what you want in there.  And once you do, it's kind of a Jenga-type situation to get what you want out of the closet, if you know what I mean.
So I had several empty candle containers – candles that I burned up and the container was so cute I just couldn't bring myself to throw it out.  You know how that goes, right?  I decided to clean them out and use them to corral the wayward wax melts in my closet, with an eye to some sort of cute & interesting display at a future date.
In the interest of full disclosure, I must point out that I bought all these candles on sale – at least 40% off regular price – and used Ebates to get cash back, free shipping options and more with each purchase, as well as coupons in some cases.  (I have a strict 'no full price' policy for non-essential items.)  This is the reason I'm including this project in my 'frugal' category.  🙂
I started out with a few Bath and Bodyworks® candle empties …
As you can see, there was still a bit of wax in the bottom.  I didn't want to waste it … because, well, I'm me.  😉  And it still smelled really strong.  So I broke it out of the jar in chunks (easily achieved after I froze the jar for about 10 minutes) and transferred the wax pieces into a zip bag, labelled with the fragrance.  Now I can use this *bonus wax* in my tart warmers!  Double score on the frugal side!
Next, I wiped out the wax residue and then washed the inside out with hot soapy water*.  There wasn't much wax left in these jars – they had burned really cleanly and only a little glue was left on the bottom where I pried out the wick holders.
* If you are washing out candle containers, be careful about washing any wax residue or pieces down your drain – it can cause serious clogs!  I wipe out as much of the actual wax as possible with a paper towel before washing in the sink and I ran a TON of hot water down the drain after so nothing would 'set up' before leaving my plumbing.  If you're concerned, you could wash the wax out in a bowl or bucket and dump it outside rather than running it through your septic or sewer lines.  Safety first!  🙂
After I cleaned out and washed the candle jars, I used them to hold my wax tarts and melts.  Instead of keeping them all jumbled together in a basket or bag where they all get to smelling the same (Hello, Blueberry Scone – I'm talking to you!), I wanted them to have their own space, grouped together by scent.
I don't quite have enough candle empties to separate every single fragrance of wax tart, but I grouped some of similar scents together.  Each one of these Bath & Bodyworks® candle jars (14 oz. or so) holds around 7 Yankee® brand tarts.  I am only storing those separately because they tend to mingle more than the melts that come in a plastic clamshell … but you could totally break those into pieces and store them this way.  I think they'd be gorgeous pops of color anywhere in your house!
I had a few Yankee® large tumbler empties, too.  I followed the same procedure – freeze, break up and remove any extra wax, wipe clean, wash – and I'm using them to store votives and tea lights.  I love the lids which help preserve fragrance and add a nice 'stack-able' quality.  And I didn't remove any of the labels because I like the look of them.  But if I had a jar that had a shape I loved with an ugly label … I'd scrape it off and use peanut butter to remove all the glue before washing it up.
The jars have all gone back into my closet because I don't have anywhere else to go with them – yet.  I'm working on a display option for my new storage system because I can tell I'm going to love using candle containers this way.
I use empty candle containers in other ways, too …
… including as toothbrush holders, receptacles for cotton swabs/cotton balls in the bathroom, even as sweet and pretty containers for shells, beads, polished rocks and such in my daughters' rooms.  Because they are clear glass, putting colored bits and pieces in them just for fun makes an easy personalized decorative item and keeps me from having to cart them 45 miles to the nearest recycling center.  See – I'm saving fuel, too!  Go me!
I'm a sucker for an attractive container – I'll admit it.  Candles, vases, olive jars … if the container is pretty, I'm already thinking ahead to how I might be able to use it when it's empty.  I'll also admit that's part of the reason I bought some of the candles in the first place – for their pretty labels, jars or lids.  And if you're going to buy the product in the pretty jar anyway,  you might as well get even more use from the pretty jar.  Right?
Now … could I have found containers for holding my cotton balls elsewhere for less money?  Yes.  Would they be as functional and pretty?  Possibly.  Would I have enjoyed shopping for them as much as I enjoyed repurposing the candle containers?  Probably not.  I really love the idea of turning a used up, old thing into a useful new thing.   I also love having something unique and not quite like what everyone else has in my home.  It's that whole 'character' thing.
I hope this has you thinking about how to re-use that sassy pickle jar in your refrigerator, or some other fun container you have sitting in your pantry.  And I hope you'll share your projects, too.  Maybe I'll pick up another cool idea …
Love & Blessings,
That Farm Mama