This post was most recently updated on June 10th, 2018
This post may contain affiliate links. If you purchase something through one of these links I may receive a small commission, at absolutely no extra cost to you. In an effort to provide the best opportunities for saving money, time, and stress to my readers, I  only promote products and services I use and/or really love. You can read my full disclosure here.

If you would like to know how we collect, use, and protect any data you provide, please read my Privacy Policy.

Thank you so much for helping me earn a living as a stay at home mom!
---
Farmhouse Style Furniture is So Hot Right Now
I don't know about you, but I am really enjoying the popularity of farmhouse style furniture.  For me, it's not really new, though – I've been decorating with old-looking stuff for years!  While it has been mostly out of necessity rather than choice doesn't really matter, because now I'm right on trend.  lol But even so, I'm not immune to the lure of a farmhouse style furniture DIY project.
One of the biggest projects I've attempted in a while, is a bunk bed makeover for my youngest daughter.  I have been wanting to try out a new distressing technique using paint and petroleum jelly.  And I thought her bed would be a perfect opportunity to experiment a little.
I found a 'fixer' wooden bunk bed set last summer on my local Facebook buy/sell/trade page for only $20.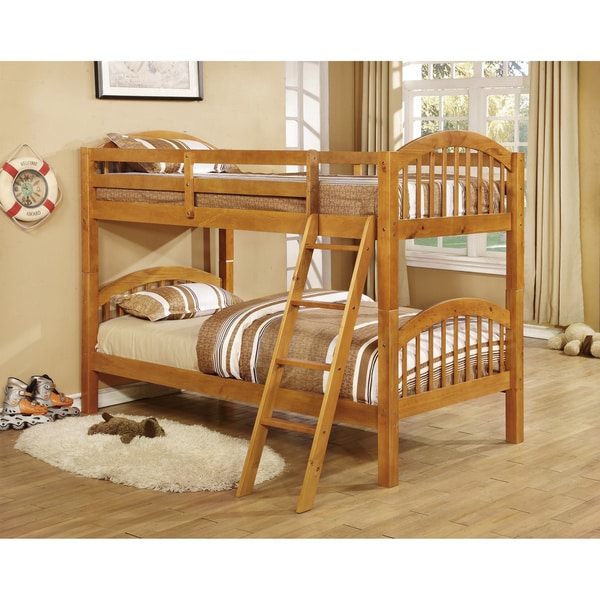 I forgot to take pictures of the beds before I started working on them.  They basically looked like this, except the previous owner lost the ladder and took the safety rails off the top bunk – and lost them, too.  Plus, he had added about 4 extra coats of varnish to the beds.  🙁
I managed to get both beds completely sanded before fall. But it ended up taking forever because there was a TON of varnish coating them. And unfortunately, football season and dance classes started, then I didn't have any time to work on the project.
Since we had a short stretch of really amazing weather late this winter, I jumped at the chance to finally get the beds finished.  My daughter was so excited and I was anxious to get everything done before the weather changed again.  Plus, I was SO looking forward to trying the new distressing technique I mentioned earlier!
Preparation
After taking each bed apart last fall – spindles and all, I had sanded everything using my orbital sander and 65 grit paper.  Next I  did a quick sanding on everything with 125 grit paper to make it nice and smooth.
(I also forgot to take a picture of them before I started priming them … I swear  I'm trying to get better about taking pictures of stuff!)
Day One:
Now, I reassembled the ends of the beds and painted each piece with one coat of water-based indoor/exterior primer.
It was a warm day while I was doing the priming, so everything dried pretty quickly and I was able to get both beds and all the rails primed in one day.  I put on one coat of primer.  Initially, I thought about using two, but since the end result was to be distressed anyway (and the weather was a concern), I cut a couple corners to save time.
Day Two:
The next afternoon,  I put on the first coat of color.  Bear chose the two colors we were using herself. The base layer that would peek through the distressed finish, is called "Bunny's Nose," from Valspar™ in an eggshell finish.
It was a lot darker than I thought it would be, and I worried it would be too bright under the pale green she'd chosen.  But I figured I could tone it down with some white washed over the whole thing if necessary.
It took me an entire day to get the beds covered with one coat of Bunny's Nose.  I'll be honest, I wasn't impressed with the Valspar™ paint quality at this point, either.  It seemed very thin and didn't cover great.  But again, considering my desired end result, I didn't paint a second coat.  I just stayed mildly irritated that the coverage was so poor.
Days Four & Five:
Now that the paint was completely dry, I was ready to implement the paint & petroleum jelly distressing technique.  Woot!
I dabbed petroleum jelly everywhere I wanted that base coat to show through my top coat.  I just smeared it right onto the paint.  I'll admit, I was a little nervous about the outcome so I was a bit timid on the first piece I tried.  But after I saw how great it was working, I got a little bolder on the rest of the beds.
Since I had a name brand petroleum jelly on hand, that's what I used.  But I don't think using a generic brand would make any difference.  I might not use a petroleum jelly with 'extra' ingredients (like aloe vera or cocoa butter) in it, though, as it could possibly affect the look of the finished project.
I applied the petroleum jelly one bed piece at a time, then painted my top coat, before moving on to the next bed piece.  This process ended up taking me two days.
On day five, my luck had run out and I was racing against the weather.  I was working in the back yard as the wind blew about 30 mph!  I was frantically trying to finish the painting and get the whole bunk bed project moved indoors before it rained!
Day Six:
Bear chose "Pistachio Cream" as her top coat.  The color chip was a Glidden™ color, but I had it mixed into the Valspar™ paint, again in eggshell finish.  Weirdly, this gallon of paint was much thicker and covered better than the other.  Same paint, so I don't know what was going on.
When I was finished with the top coat, I took a clean, soft cloth and started rubbing away the paint everywhere I had applied petroleum jelly.   On the pieces I had painted that day, the Pistachio Cream came off really easily.  But on the pieces I'd done the day before, it was a little harder.  Next time, I'll rub it off as I go.
The previous owner of the beds had either not used slats, or had also lost them.  (Honestly, I started to wonder if $20 was too much to pay for the bunk beds!)  So my very handy husband made slats out of some of the pallets we have collected.  They worked great – and they were free!
Day Seven:
At last, the bed was finished and ready to move into the Bear Lair!  She had been removing posters from her walls, rearranging furniture, and making preparations for the event for several days.
She decided she wanted to sleep on the top bunk.  So in the interest of preserving her noggin, we brought out the safety rail from when she was a toddler and put it on the side of the bed not against the wall, just in case.  She is a very deep sleeper and we didn't want to have her rolling out onto the hard wooden floor at 2 a.m.
Currently, she's sleeping on her mattress on the top bunk, and using our old sofa cushions on the bottom to create a sort of lounge area.  She is LOVING it!  In fact, we haven't seen much of her outside her room (or off her new bed) in days.
Final Thoughts
I loved this distressing technique.  It was super easy and inexpensive, considering that the paint I bought for this project will be used on other projects later.   
There are so many different ways to distress furniture, and so many different finished looks.  This paint & petroleum jelly method produced more of a chippy, shabby finish that I think looks very much in line with the farmhouse style.   And I shouldn't have worried at all about how dark and bright the pink color was under the pale green.  It looks wonderful – very girly, but not too baby-ish.  It's a very stylish combination, in my opinion … and Bear's.
Completing this bunk bed makeover was a huge relief.  It puts into motion a plan to get our 3 year old out of our master bedroom and get everyone into their own space before summer.  Yay!!
Here's a warning … there will be a LOT going on around the Farm in the coming weeks, and I want to share so many things with you, so be sure to subscribe so you don't miss anything exciting! Also, follow me on Facebook and Instagram.  And follow me on Pinterest, too, where I keep a huge collection of project inspiration, crafts, recipes, home school related information and more! And, hey – I'd love for y'all to share your favorite furniture and diy projects with me, too.  After all,  I don't want our friendship to be one sided … 😉
Love & Blessings,
Sharon