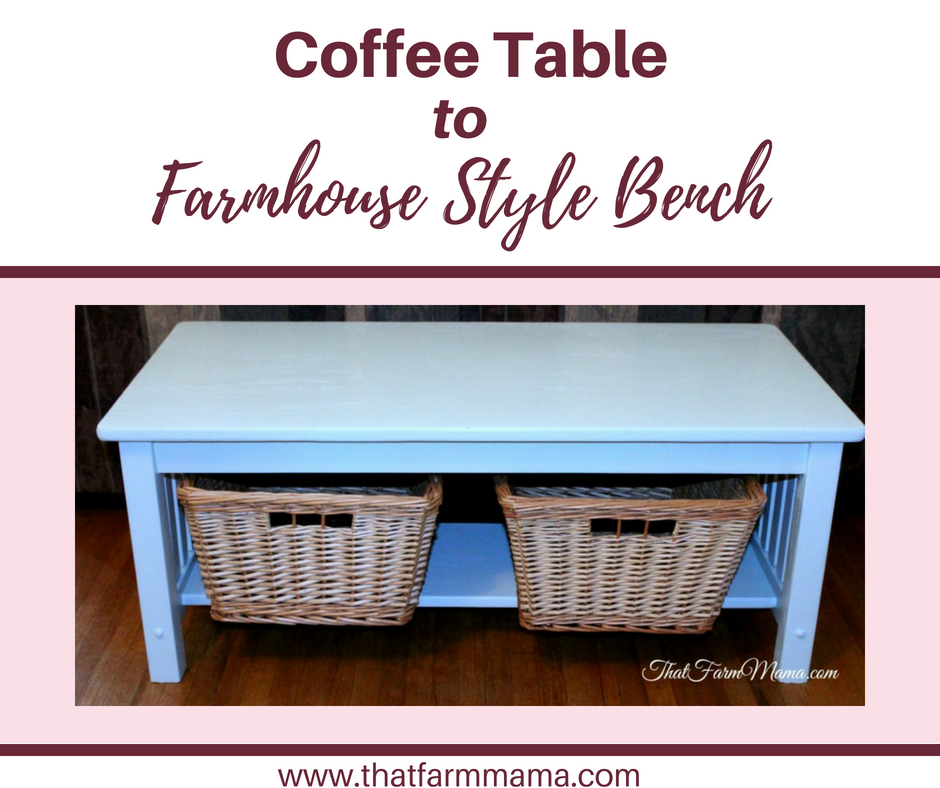 This post was most recently updated on June 7th, 2018
This post may contain affiliate links. If you purchase something through one of these links I may receive a small commission, at absolutely no extra cost to you. In an effort to provide the best opportunities for saving money, time, and stress to my readers, I  only promote products and services I use and/or really love. You can read my full disclosure here.

If you would like to know how we collect, use, and protect any data you provide, please read my Privacy Policy.

Thank you so much for helping me earn a living as a stay at home mom!
---
I spent the last week outside, celebrating the gorgeous sunny weather.  And … working on this beautiful farmhouse bench!  I'm so excited to share how I turned a thrifted coffee table that was super outdated into a beautiful, functional farmhouse style bench for my mudroom.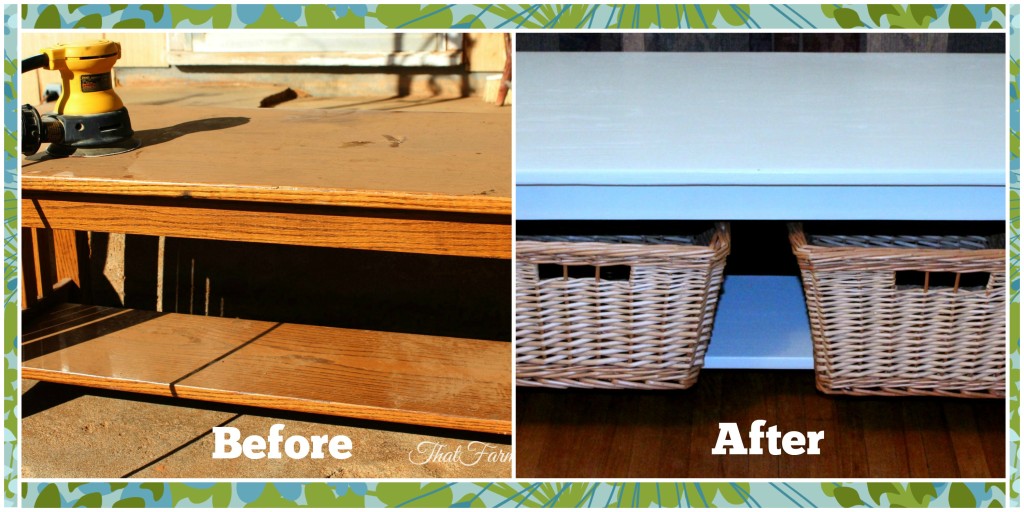 Several months ago I bought a coffee table from one of our local Facebook buy/sell/trade pages.  I didn't need a coffee table, but it was priced at $10.  And I did need a bench for my back porch mudroom …
Now, some might think February is a bad time to start an outside furniture project.  But those people clearly don't live in Kansas, where winter has apparently stopped coming. And this last week was absolutely gorgeous. I just had to take advantage.  So I slipped outside to sand, prime and paint my new bench.
I'm not kidding around about the weather, either, people!  Take a look at this amazing sky!!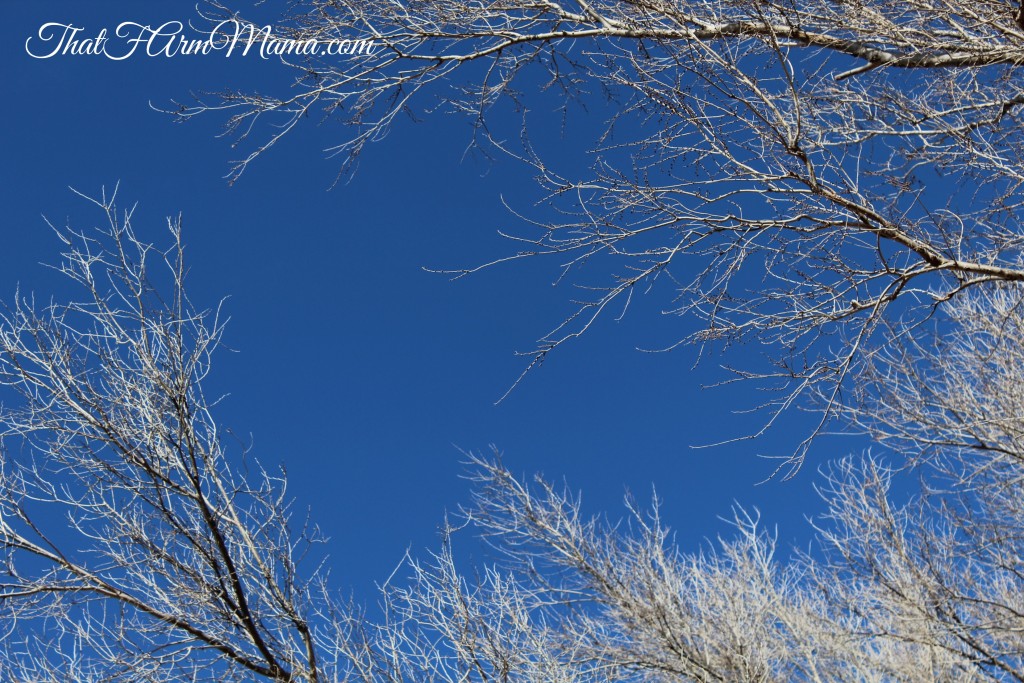 Coffee Table to Farmhouse Bench Makeover
So, this is what the table looked like when I brought it out of the shop.  It was gross – covered in dust, cobwebs, and varnish.  Bleh.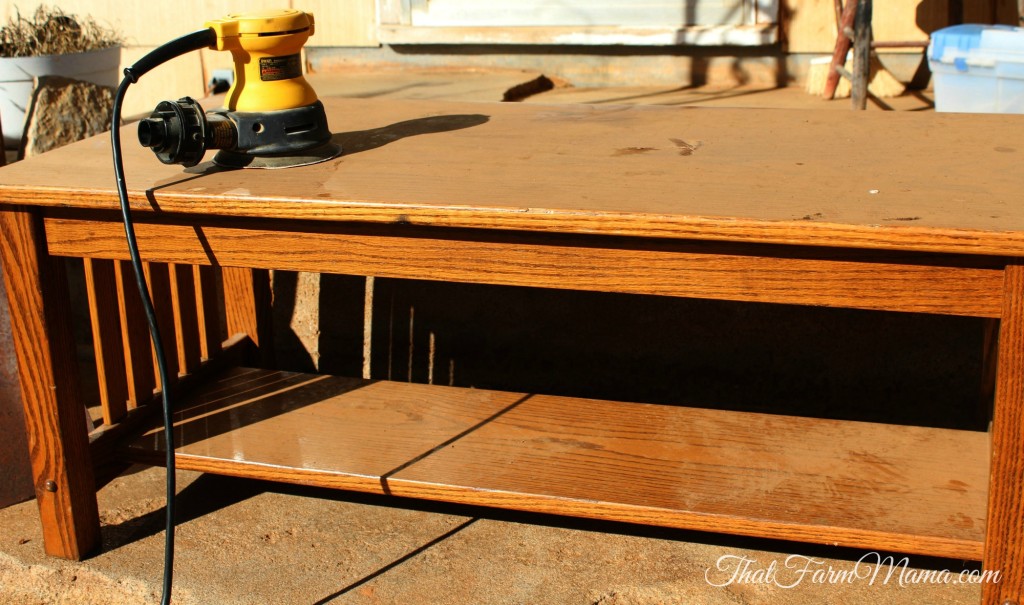 I started out using an orbiting sander with a 60 grit sanding pad.  But I quickly realized that the copious amount of varnish on this table would not simply be sanded away.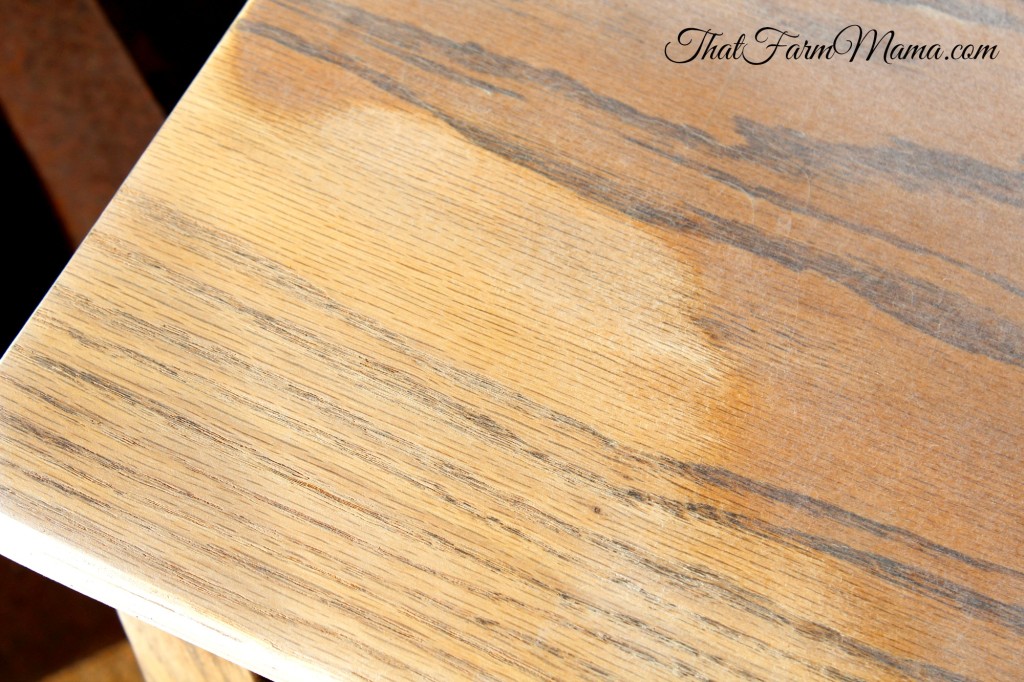 I spent almost an hour and used 3 sanding pads working on this one corner of the table before giving up. There was so much varnish that I could see visible cracks in the coating!  Crazy heavy varnish.  Why?  Just … why?
After consulting with my resident expert and project supervisor,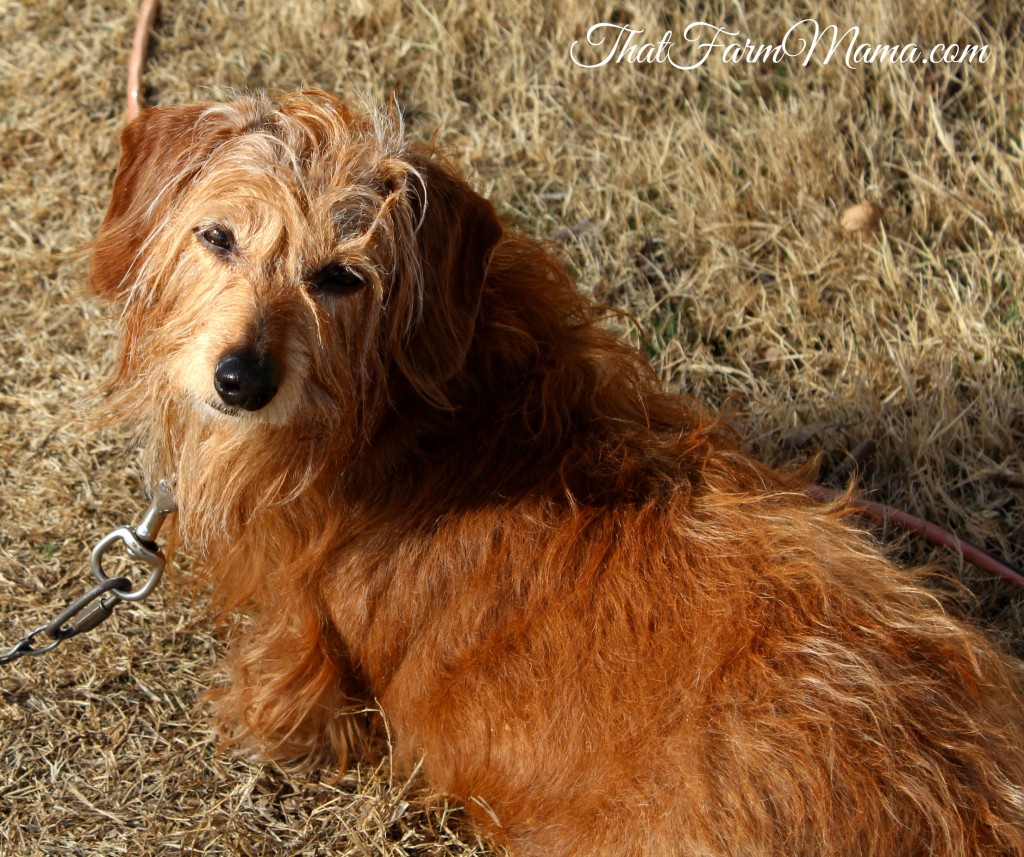 I decided I needed to strip the varnish off – at least on the top of the table. Maybe the entire thing would need to be stripped.  Sanding was definitely not the way to go.  So I stopped for the day and made a trip to the hardware store to pick up some wood stripper the next day.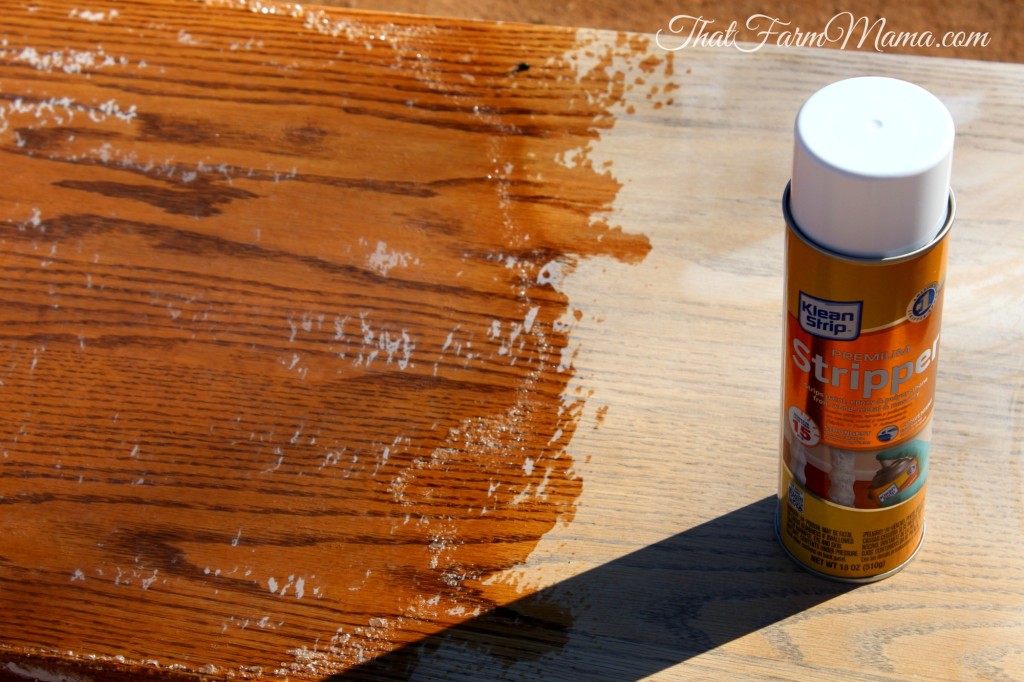 I bought the spray wood stripper, thinking it would make life less messy.  Because when you have a limited amount of time to work on these types of projects sans children … less mess to clean up is definitely a plus.
I sprayed a generous coating of the stripper on the table and let it set for around 15 minutes.  You know, I really thought that would do it – I mean I sprayed the heck out of that thing!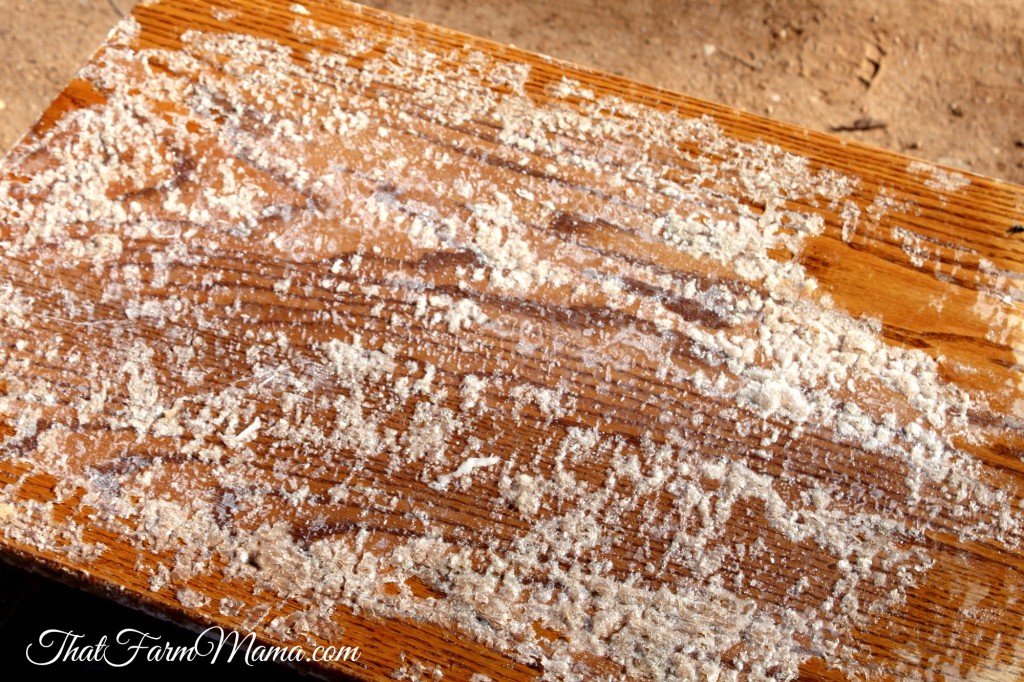 After 15 minutes of 'marinating', only a few layers of varnish came off when I scraped.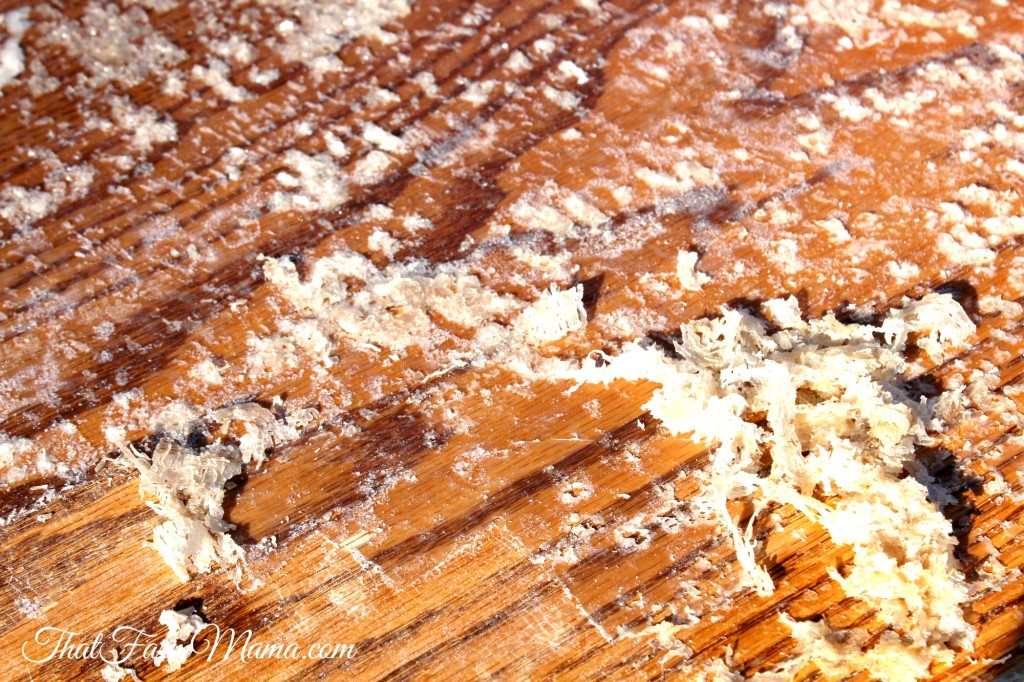 How I Removed the THICK Varnish
Sprayed
Waited
Scraped
Sprayed
Waited
Scraped
And finally … FINALLY! … the varnish was gone.  Whew!
Next, I spent a little more time with the orbital sander and a finer grit paper, which got rid of the leftover bits of varnish and stain.
I LOVE the feel of freshly sanded wood — it's soooooo smoooooth.  🙂
The Fun Part
Next, I primed each piece.  That didn't take very long, because my thoughtful husband had taken the table completely apart for me.  But the sun was SO BRIGHT outside that day that after staring white paint all afternoon, I was a little blinded.
I let the primed pieces dry overnight.
The next day I was ready to paint!  Yay!  I chose a sea foam green color because I want to create a beachy color scheme in the mudroom.  Another reason I chose that color because I had quite a bit of it left over from another project.  Frugal is as frugal does, I always say.
After another afternoon in the sun, trying to distinguish where I had painted this very light blue from where there was only primer … my eyes!  lol
Brief Mama brag moment … the work table you see in this picture was built by my oldest son when he was 12.  It's a great height and size, and even though it's just the slightest bit wobbly, I love it.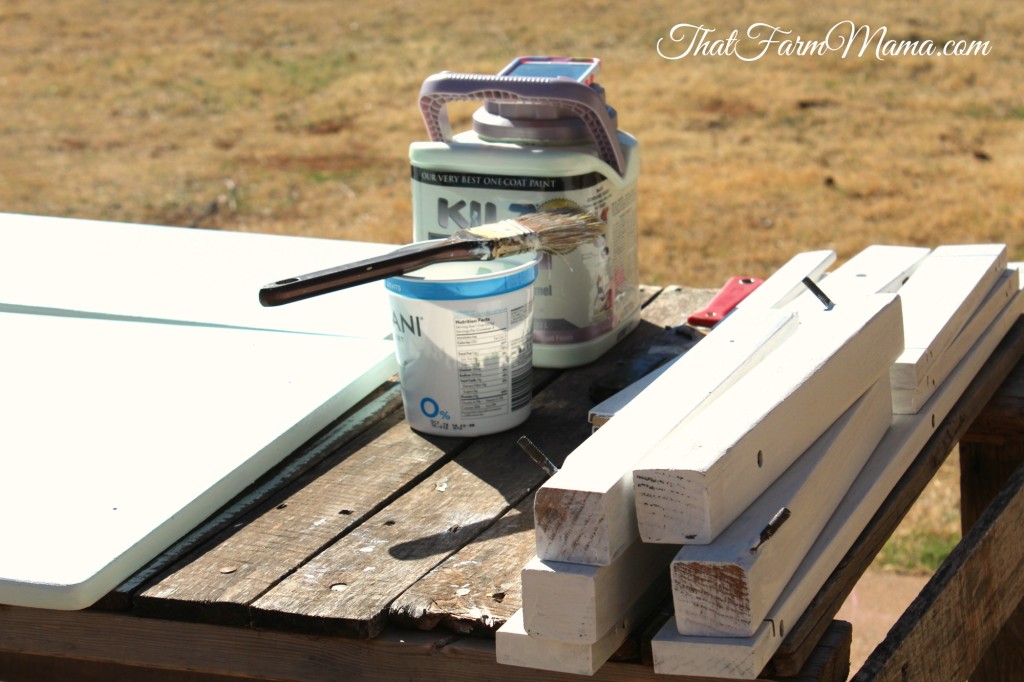 So, in typical southern Kansas weather fashion, it turned colder on my last work day.  So I had to bring the pieces back into the house for the last few touch ups.  It worked out fine, so long as we remembered to keep the back porch door closed.  Obviously, we didn't end up with a 'painted dachshund'.
My husband took the painted parts to the basement to dry and the next morning, he reassembled the bench.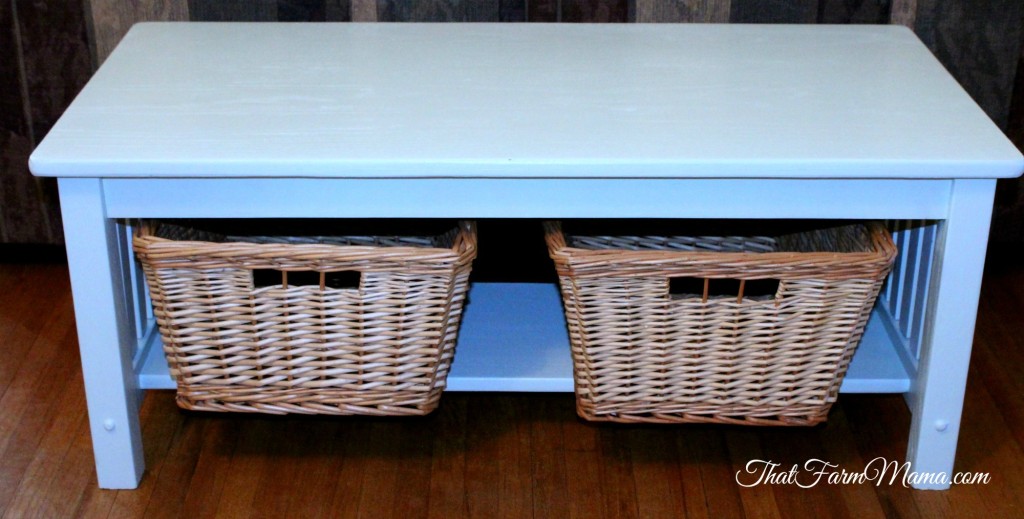 For now, I have my new bench conveniently placed behind our little couch, between the dining room and the family room. I'm going to have to do a little rearranging in the mudroom before moving it. I found these two baskets in my closet.  They fit perfectly under the bench and will make lovely storage for gloves and hats.
My three year old is loving it as a play table.  Which is another thing you could do with an old coffee table, isn't it?  In fact, as I was trying to photograph the completed bench for this post, he was fighting with me to keep his trucks and cars on it.  He also tried just laying on top of  it and refusing to move, but Daddy drug him off.  As it's working out, I won't even have to 'distress' this bench … the 3 year old is taking care of that for me.
I am supremely happy with the way this project turned out.  It was fun to get my hands 'dirty' and create something stylish and useful from something ugly and not-so-useful.
Tell me what you think.  Do you have an outdated table you could turn into a farmhouse bench for your house?  Or do you keep seeing ugly tables at garage sales and thrift stores and wondering what you could do with one?
I'd love to see any of the upcycle, recycle, or junk to treasure projects you guys have done, so don't be shy about sharing! Be sure to follow That Farm Mama's Facebook page and Instagram, where I often share smaller projects I'm doing, too.  Follow my Pinterest for recipes, DIYs, crafts, decorating ideas, gardening & homesteading, homeschool & more!
Love & Blessings,
Sharon