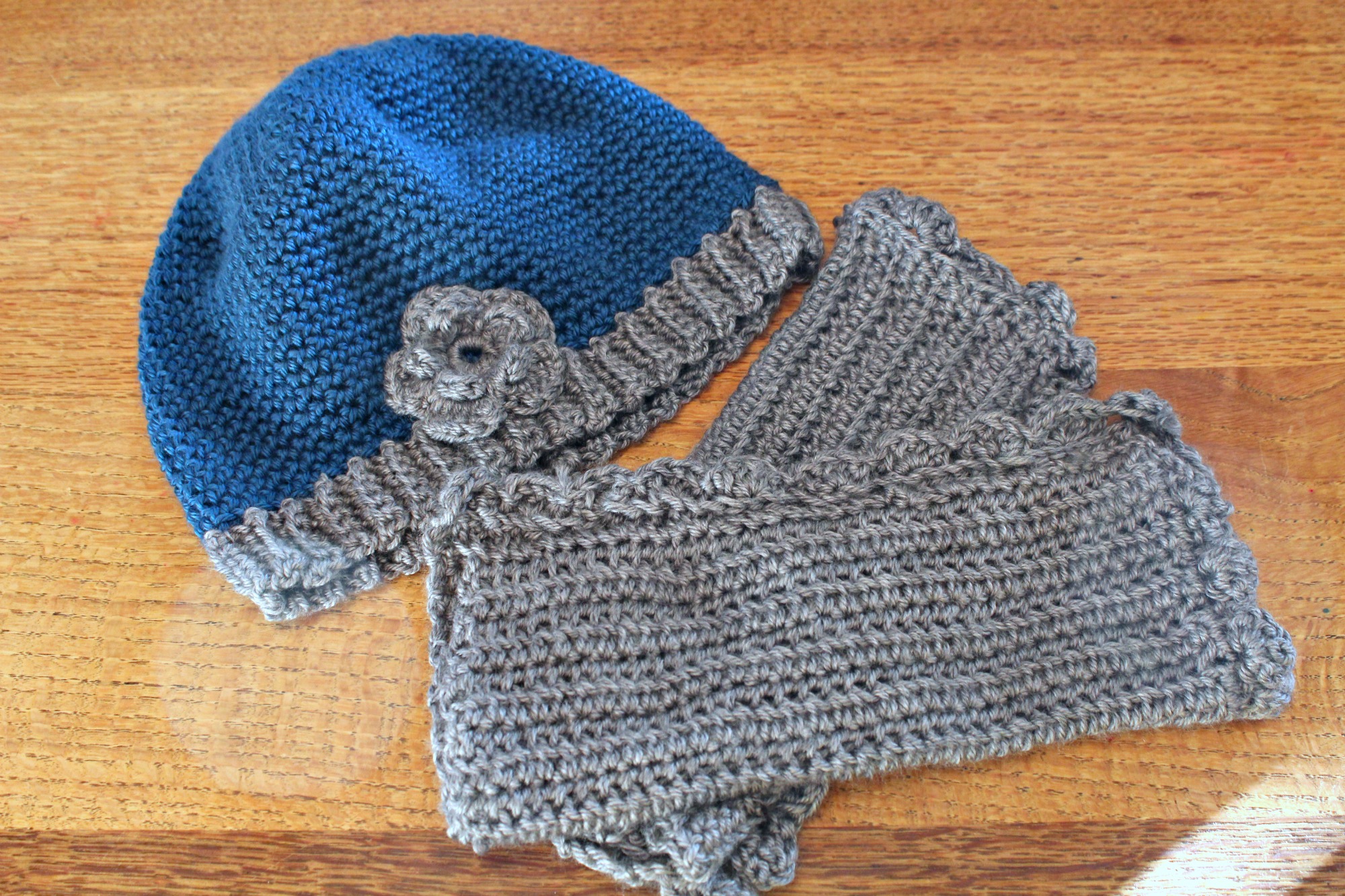 As most of you know, I've been recovering from surgery for the past few weeks. I have not been able (read: allowed by the doctor OR my family) to do anything remotely strenuous, but there's only so many makeup tutorials you can watch on YouTube without getting bored, right? So I have been slowly taking some pictures of the crochet projects I completed over the past month to share with y'all.  These are simple crochet projects that even a beginner can complete in a weekend.  And … bonus … they are SO CUTE and practical!
This first project was a real labor of love.  My little Finn loves to run through the house and is forever stubbing his sweet toes on some thing or another.  He has outgrown all his grippy socks and I thought a pair of house slippers all his own would be just perfect.  I had most of a skein of Red Heart Super Saver yarn in Camouflage leftover from another project, so that's what I used.  (I have been trying to use up all my partial skeins of yarn before buying new, in order to be frugal and save space.)  At the time I wanted to take a picture of the finished project, Sir had 'misplaced' one slipper, so I only had one to photograph.  But you get the idea.  I used this pattern to make them.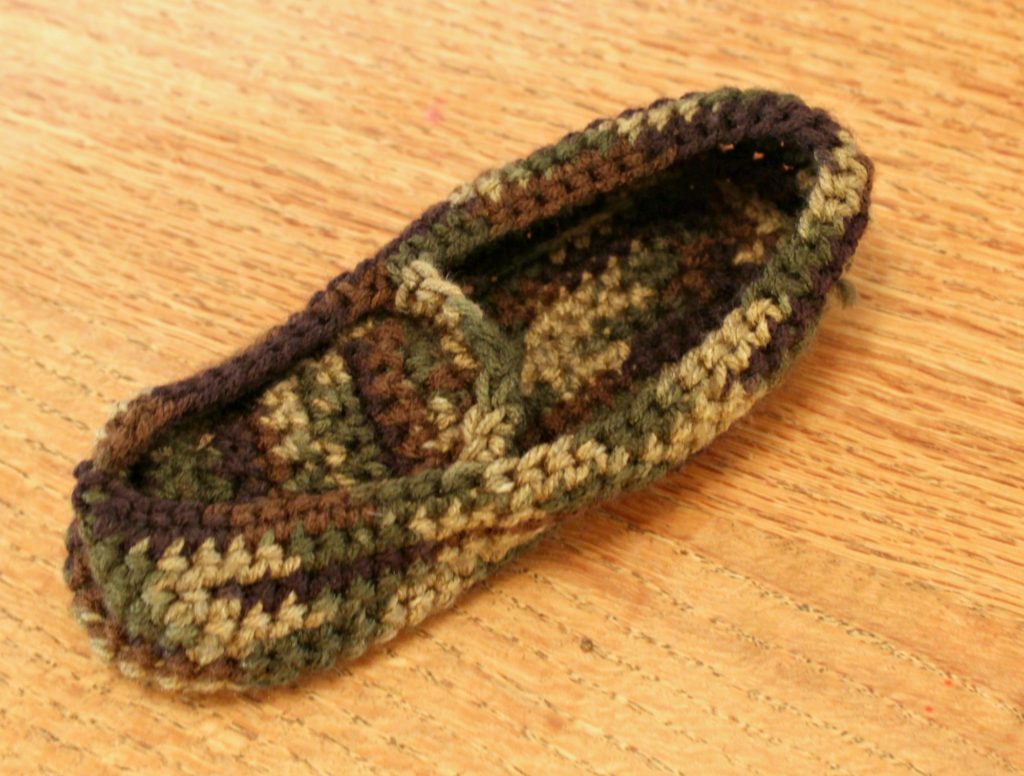 Finn wears a size 10 Toddler, so I used a size F crochet hook, slightly smaller than the original pattern recommends.
After I finished the loafers, I started working on a hat for myself.  I don't wear them often (mostly because it hasn't been cold enough to justify a hat where I live – :-/ ) but I think they look so fun and cozy.  My mom cleaned out her yarn stash a while back and sent home a partial skein of this gorgeous persimmon yarn.  I had to use it!!  Following this pattern  I was able to complete the cloche in about an afternoon.  The stitches look complicated but are very simple – a beginner could easily complete this project in a weekend.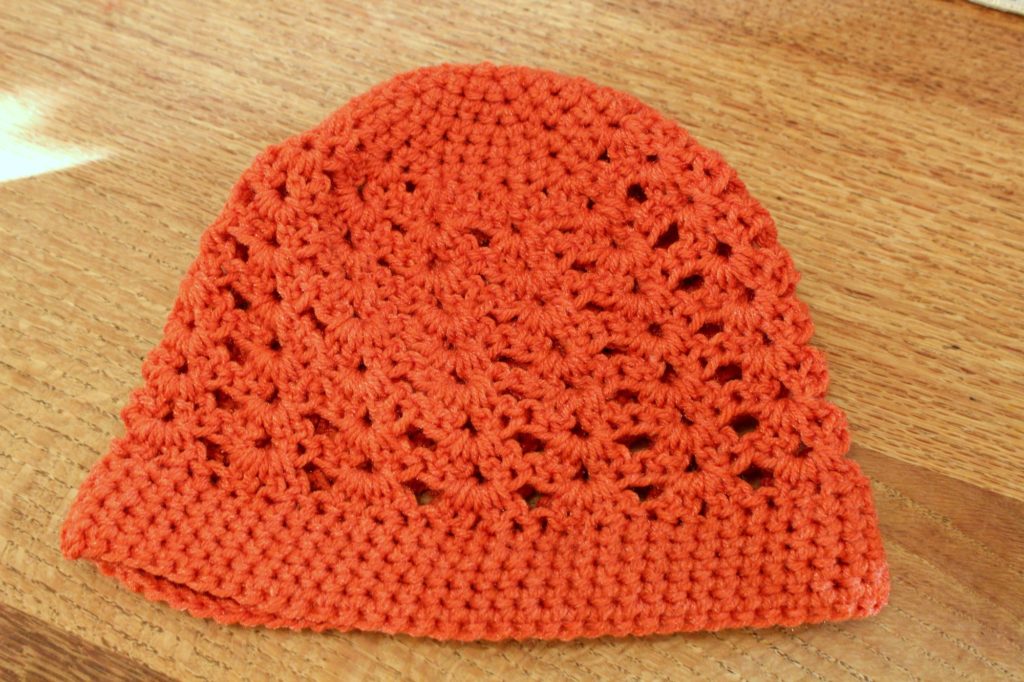 If you look closely, you can see just a bit of shimmer in this yarn – it is so beautiful!  And I love that the open weave of the stitches makes it lightweight enough for me to wear when it's not super cold … which it hardly ever is.  It's going to be great for fall football games and then on through next winter, too!
It was around the time I was finishing up the hat that my oldest daughter decided she wanted to make hats and fingerless mitts for her friends' Christmas.  She is a beginner … very beginner … and has little to no patience.  After working on this next project for a couple days, she threw in the towel and asked if I would help her.  Now don't worry – I suspect the reason she couldn't make it work was NOT because of her beginner crochet skills, but because she was very invested in the television while she was working on it.  This is a very simple pattern and probably one of my favorite things I've ever made.  We bought yarn especially for her gift projects — this was worked with Lion® brand 'Vanna's Choice' yarn in the colors Peacock and Charcoal Gray, following this pattern for the beanie and this pattern for the fingerless gloves.  (I left off the buttons on the gloves, and didn't do a contrasting color for the trim because that gray was just – UNF! – gorgeous!)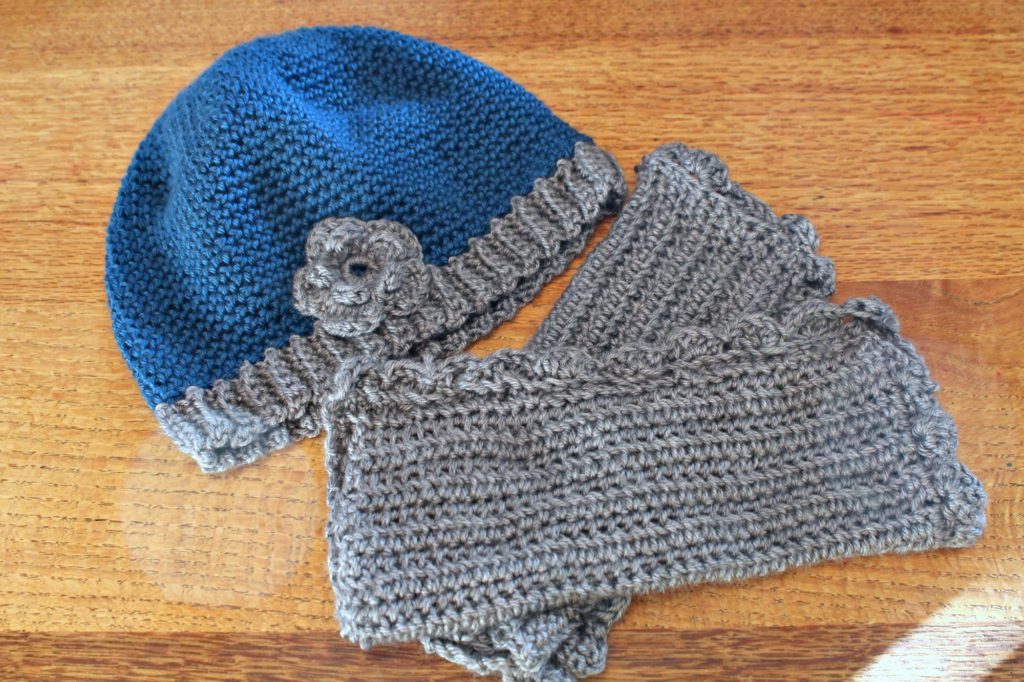 I found a fun and simple crochet flower pattern and added it to the beanie.  I seriously ♥ ♥ ♥ the way this project turned out!
While was working on one friend's gift, darling daughter tried her hand at another … but that darned television was just too mesmerizing and this next item was not enough to tear her attention away.  Once again, Mama agreed to work on it and I'm so glad I did!  It was super easy to crochet and very unique.  This sweet pink yarn was called 'Strawberry', and since the girl receiving it loves pink and is as sweet as a berry herself – it was a perfect fit.  Once again, we chose the 'Vanna's Choice' yarn from Lion® for both the braided earwarmer and the fingerless mitts – it's just really soft and beautiful yarn.  And affordable. I especially loved that the earwarmer pattern offered several sizing options so it was easy to adjust for a young girl.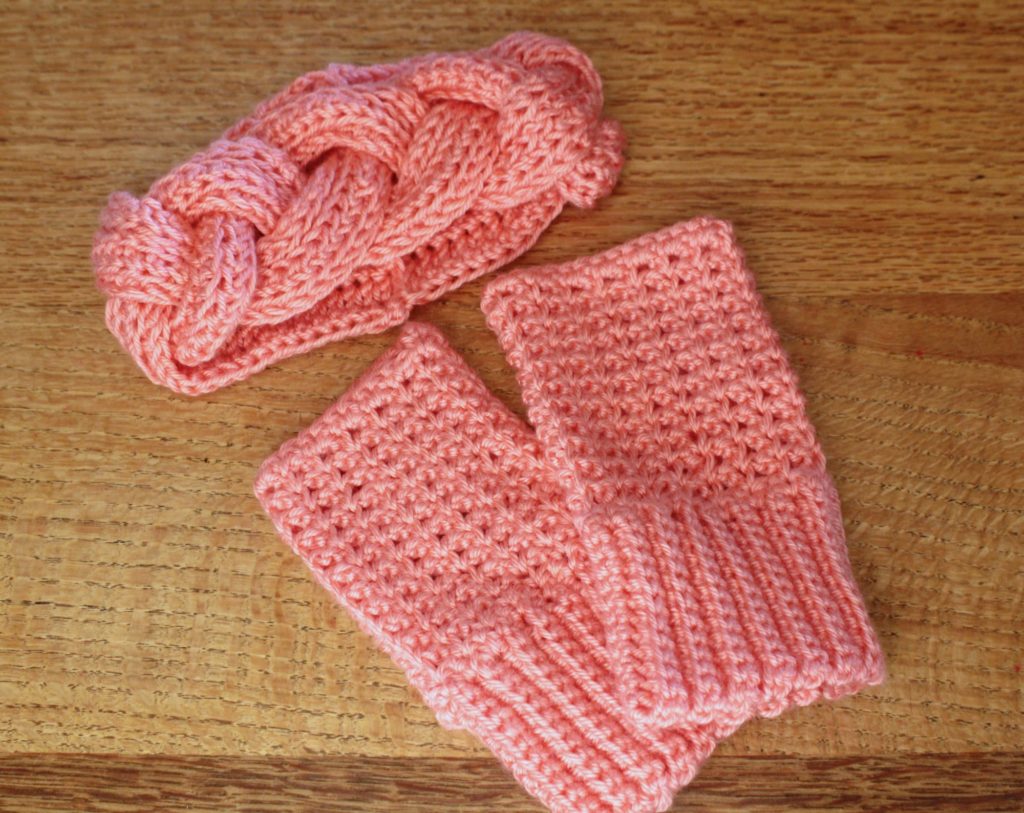 I made these same fingerless mitts for both my daughters, along with the accompanying boot cuffs pattern last year … okay, it's 2017 now so I guess it would have been 2 years ago for Christmas.  Wow – time flies when you spend the first month and a half of the new year in your house recuperating!  lol  Anyway, they were very easy  to make and took me one evening to complete one pair.
Finn saw the fingerless gloves and wanted his own, so I brought out the camo yarn and used the same pattern as above to make him some.  To adjust the sizing, I measured his wrists and used that as my guideline for the length of the glove wristband.  Then, I simply left out some of the rows in the 'glove' portion, counting them out so I would get the thumb holes in the right position.  This is a pretty forgiving pattern.  He likes to wear them with his Batsuit, or out to work in the yard.
I had just a little bit of this silky taupe yarn leftover from the girls' boot cuffs and fingerless mitts a couple of years ago, so I used it up making this very sweet scalloped earwarmer.  This one was just a little confusing for me, so if you are a beginner, I still think you could make it, but you might want to allow for more time – and have a more experienced crocheter on standby in case you get stuck.  In the end, though, it turned out really pretty, and I can wear it when I'm out walking and have my hair up, rather than one of those oh-so-trendy 'messy bun' beanies, which I just don't care for.  I'm so sorry – I can't remember the color of this yarn … the wrapper perished a long time ago.  I do think it was a Lion® brand yarn, though I can't be certain.  It was super soft and lightly shimmery.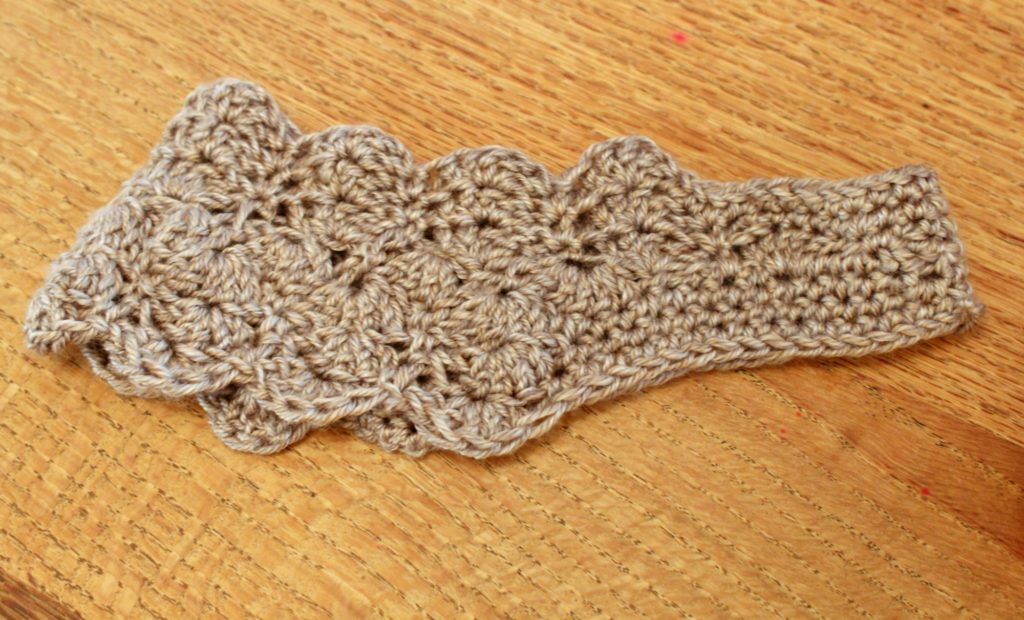 I wanted to make this project the minute I saw the pattern on Pinterest!  Just like his older brother, Finn is a huge fan of Batman® and I definitely want to encourage that!  I got him a Batman® pajama suit for his birthday, but he likes to wear it as just regular clothing.  Or put it on his stuffed dog Ruff.  But when he got the hat … well, see for yourself.
As you can see, he managed to find the other house slipper … and though his hands are behind his back, he's wearing his camo fingerless gloves (or his crime fighting gloves, as he likes to call them).  Ugh – so sweet I can't stand it!!
Last fall, I found Finn a very expensive name brand winter coat on the local BST Facebook page for just a few dollars.  It was in amazing shape, except that the hood was missing.  I used the dark brown yarn – Red Heart Super Saver® – from my stash for the main part and that yummy persimmon orange as an accent to make him a hat that would not only go with the coat, but with the bargain down-filled vest I'd found a few weeks before, too.  This hat – oh, it's so darn cute, and such a simple pattern.  It worked up fast enough for me to make it in the morning and him to wear in the afternoon!  Plus, the pattern provided LOTS of different sizes, from tiny babies to adult men!  🙂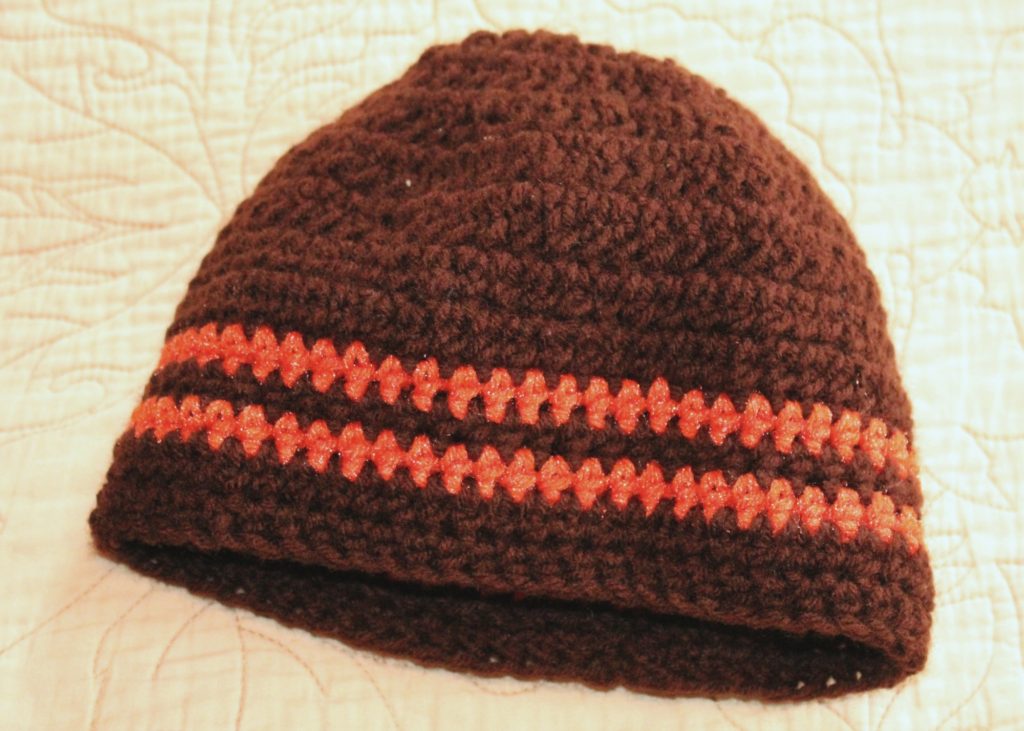 When I finally finished making projects for everyone else, I was super excited to start working on something just for me.  I still had several partial skeins of yarn left, so I decided to work them into this incredibly simple and very cute (not to mention large!) market bag.  This pattern includes two different sizes – I made the large.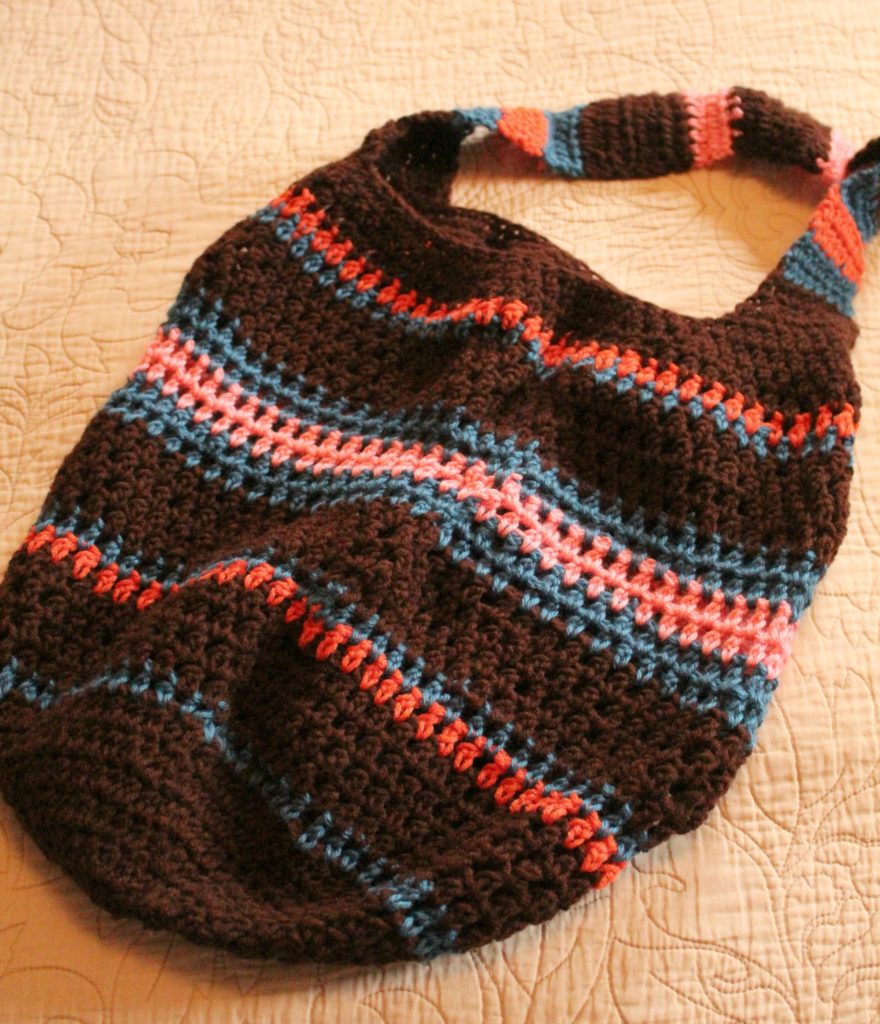 I have no idea how I'm going to use this bag, but I just adore it!  It was VERY easy, too … but since it was worked in rounds, rather than rows, make sure you have a safety pin or other type of marker so you don't get lost in the spiral!
Just before my surgery, the girls were invited to the birthday party of one of their friends.  It was specified that no gifts were necessary, but I never like to show up completely empy-handed.  Usually, we take something small, handmade – basically a token of friendship, gratitude, or celebration.  My oldest made a bracelet in her friend's favorite colors, but said her little sister couldn't share the gift. (A conversation about that followed but fell on deaf ears.) I didn't have time to get to the craft store for some of the more elaborate ideas Bear had so I turned to my crochet bag once again and had just enough black and white yarn to make this darling stuffed panda.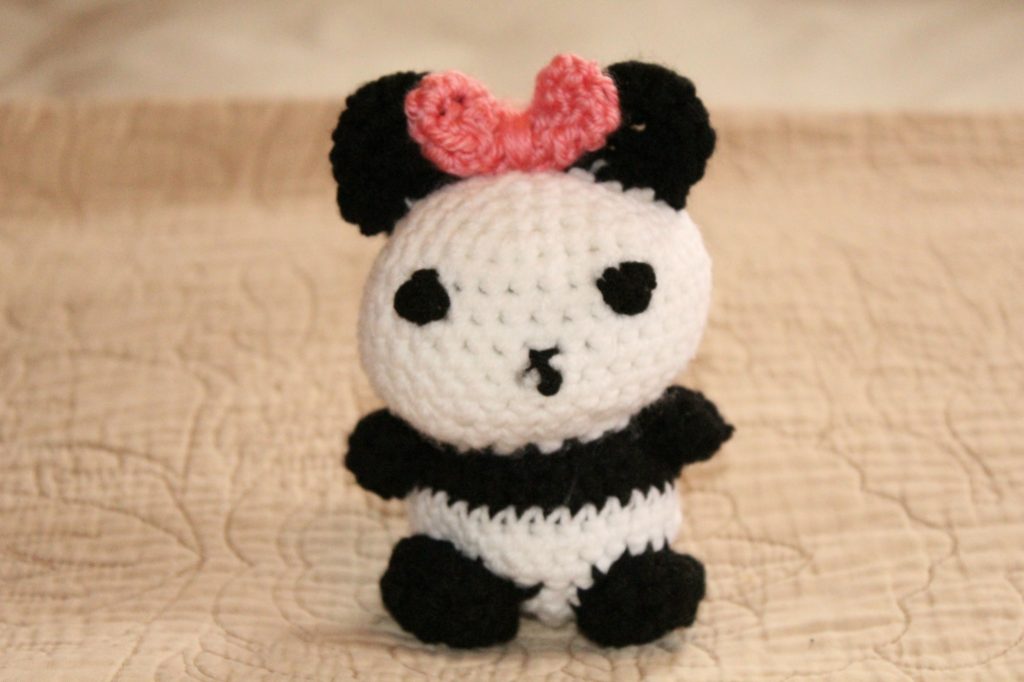 We chose the panda because it's a symbol of friendship … and because, well, who doesn't love pandas?  Mine is not as perfect as the pattern photo, but I was in a pretty big rush to get this done.  The pattern was pretty easy to follow and I think there is room for personalization without losing any of the sweetness.
The last project I have completed is this nifty little crochet hook holder.  I worked mine in black and white because that was the yarn I had left in my stash.  Why in the world do I ever buy white yarn, btw?  I never make anything white for anyone because, well, our entire world is surrounded by red dirt and nothing stays white!  Anyway …  I will admit that I had some dicey moments with this project.  It's made in two parts – inner and outer pieces. The inner part was a breeze, but the outer part did not want to size up to the other piece and it was a little wonky by the time I shoehorned everything together.  But since this is just to put my own hooks in and keep in my crochet bag, I'm not too concerned over it.  The post stitches make a very secure spot for crochet hooks and oversize yarn needles.  I can also attach safety pins so I have row markers handy.  It's nice to have all my 'tools' in one convenient place and not have to dig around the bottom of my bag to find what I'm looking for!
I hope you have seen a project that inspires you to crochet something fun.  Did you notice that all the patterns I used are available for FREE?!  Who's working for you, baby?!  lol  Seriously, I try really hard to find the patterns I want to make for no cost – it's not that I don't think the patterns are worth anything, but why pay for them if you can find them (legally) shared for nothing?  Right?    I am finally almost completely out of yarn so I'll have to purchase some specifically for my next endeavor, which means I'm going to have to be released to drive or convince someone to take me to the store.  😉
It's been so great to talk with y'all again!  I know I've been grossly absent for the past several months.  While, I do have a good excuse, the fact is that I've missed blogging and sharing with you guys terribly!  So I hope you've missed me a little bit … or at least wondered where I've been.  Or maybe just given me a fleeting thought.  😉   I'm still trying to decide whether I'm ready to share my journey of the past several months here … it's pretty personal and even though it may seem like I have no boundaries when it comes to sharing, I am a fairly private person.
Either way, I hope you enjoyed this long-overdue post and that you found something you'd like to make for yourself or someone  you love.  Or someone you don't know, even.  I've thought about using my leftover yarn from now on in making hats and scarves to donate to charity every fall.  I love to crochet, but there are only so many hats my own family can wear!  After all, they each only have the one head.  lol  Many, many thanks to the lovely people who created and shared all these amazing crochet patterns – for free!
I would LOVE, LOVE, LOVE to see your finsihed projects so please share!
Love & Blessings,
That Farm Mama