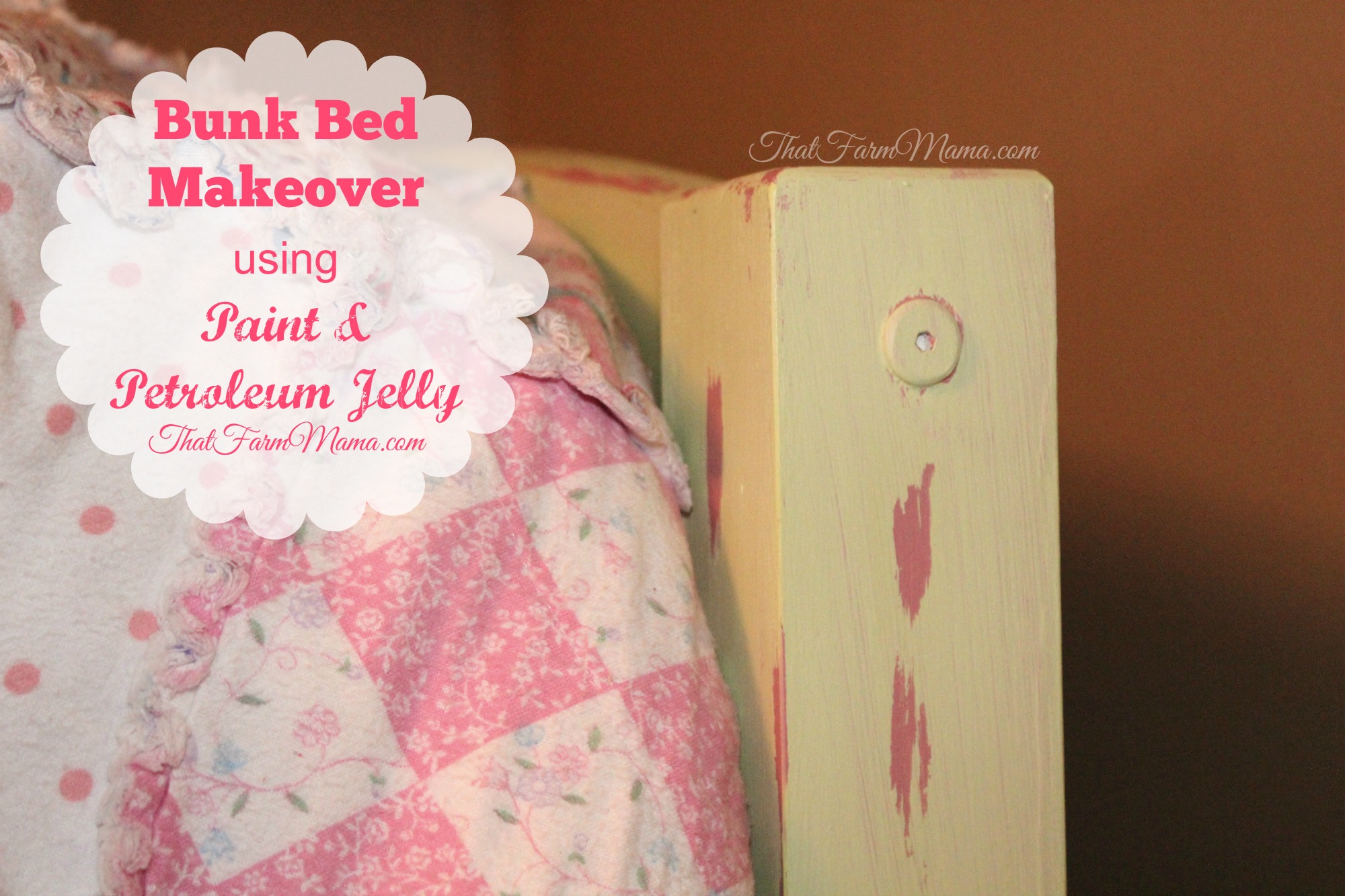 Something that has been looming on my 'To Do' list for several months has been my younger daughter's bunk bed makeover using paint and petroleum jelly. (More on that crazy-sounding process in a minute) I bought a simple wooden bunk bed set last summer off a local Facebook buy/sell/trade page for only $20. My intention was to get them spruced up and put in my younger daughter's room before fall.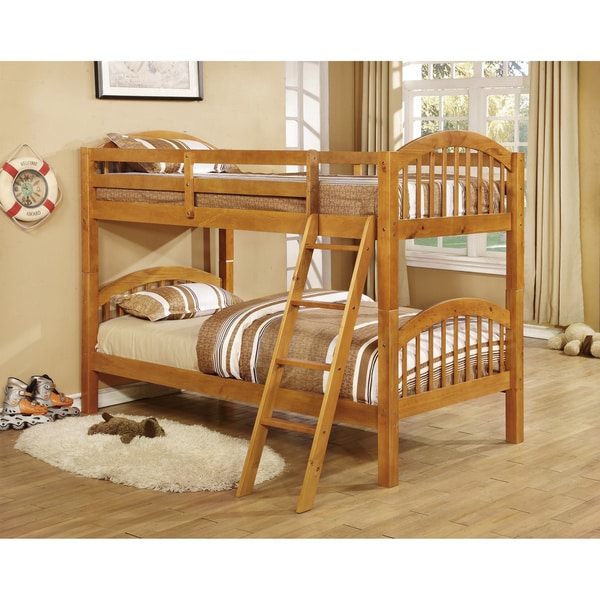 I forgot to take pictures of the beds before I started working on them … so, they basically look like this, only the previous owner lost the ladder and took the safety rails off the top bunk – and lost them, too.  Plus, he had added about 4 extra coats of varnish to the beds.  🙁
Well, that didn't happen. I did get them completely sanded – which took forever … there was a TON of varnish coating them. Then football season and dance classes started in earnest and I didn't have time to work on them. By the time I finally did have the time to prime and paint … the wintry weather had set in. Ugh.
So now it's a new year and the beds have been sitting out in the shop, sanded and ready, waiting for me to paint them.  It's really important I get this done because …
Unfinished projects make me twitchy.  I hate those niggling thoughts over things I have yet to do lurking in my head, taking up precious brain power. (I don't have that much to spare.)  
My daughter has been extremely patient, waiting on her new beds.  She's 8 and her limit has just about been reached.  Every time I remind her to make her bed in the morning, I get a long-suffering sigh, followed by an ever-so-subtle reminder that she really wishes her new bed was finished.
Once the beds are painted and moved into my daughter's room, I will be able to move some things out of storage, thus making more space for … well, more things.  lol  No, really, I saved the seat cushions from our old sofa and planned to use them on one of the bunks to make a reading/lounging area for Bear.  But they are taking up a lot of room in our storage room & I need to get them out.
And, I am going to be trying out a new painting technique on the beds and I am excited about it!  I love crackle, wood stain, chalk paint, distressed, glazed, and antiqued finishes on furniture. I like to mix and match them in my home.  And I love to create the unique looks myself.  I heard about an easy technique for painting and distressing furniture – using paint & petroleum jelly, if you can imagine! – and I think it's going to work perfectly on Bear's bunk bed makeover.
I sanded the beds using my orbital sander and 65 grit paper, followed by a quick run over with 125 grit paper to make it nice and smooth.  (I also forgot to take a picture of them before I started priming them … I swear to y'all I'm trying to get better about taking pictures of stuff!)
I painted each piece* with water-based indoor/exterior primer.
* I did take the entire bed apart – including the spindles – to sand; and reassembled the end pieces only before painting.  
It was a warm day while I was doing the priming, so everything dried pretty quickly and I was able to get both beds and rails primed in a day.  I put one coat of primer on – the end result was to be distressed anyway, so I cut a couple corners.  😉
The next afternoon, when it had warmed up enough for me to paint, I put on the first coat of color.  Bear chose the two colors we were using herself … the bottom layer, that would show through the distressed finish, is called "Bunny's Nose," from Valspar™ in an eggshell finish.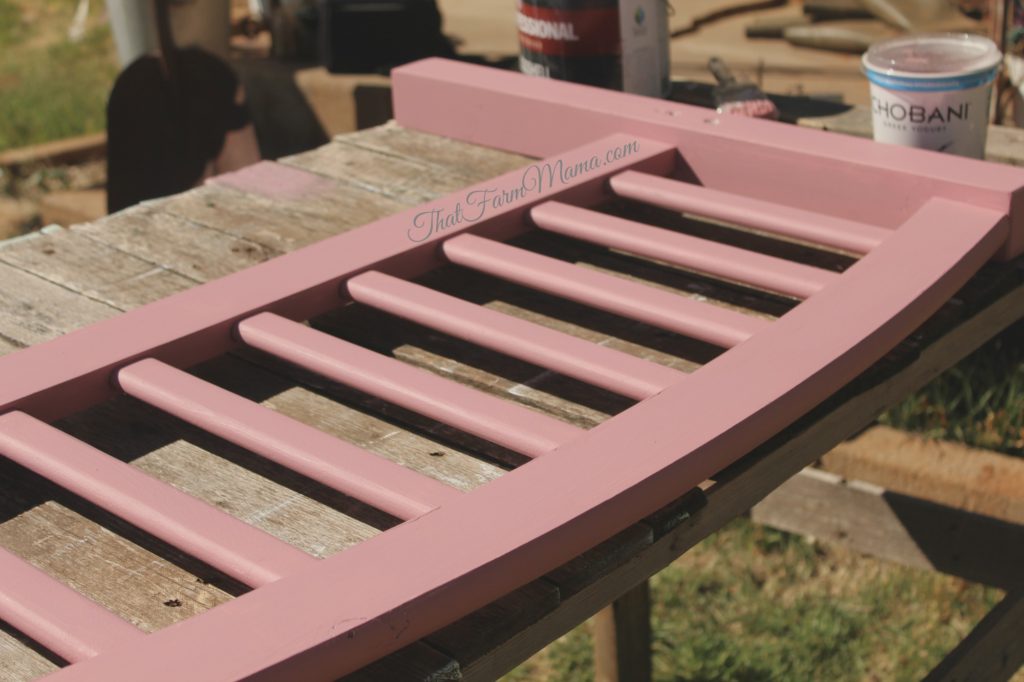 It was a lot darker than I thought it would be, and I worried it would be too bright under the pale green she'd chosen.  But since I paid almost $30 for the gallon … I forged ahead.  I figured I could tone it down with some white washed over the whole thing if necessary.
It took me another entire day to get the beds covered with one coat of Bunny's Nose.  I'll be honest, I wasn't impressed with the Valspar™ paint quality, either.  It seemed very thin and didn't cover great.  But again, considering my desired end result, I didn't paint a second coat.  I just stayed mildly irritated that the price of the paint was so high and the coverage so poor.
On day 3 of this bunk bed project, I was ready to implement the paint & petroleum jelly distressing technique.  Woot!  I dabbed petroleum jelly over the dried base coat, everywhere I wanted that base coat to show through my top coat.  I was nervous about the outcome so I was a bit timid on the first piece I tried.  But after I saw how great it was working, I got a little bolder on the rest of the beds.  (I used Vaseline®, but only because it was what I had on hand.  A generic petroleum jelly would work just as well.)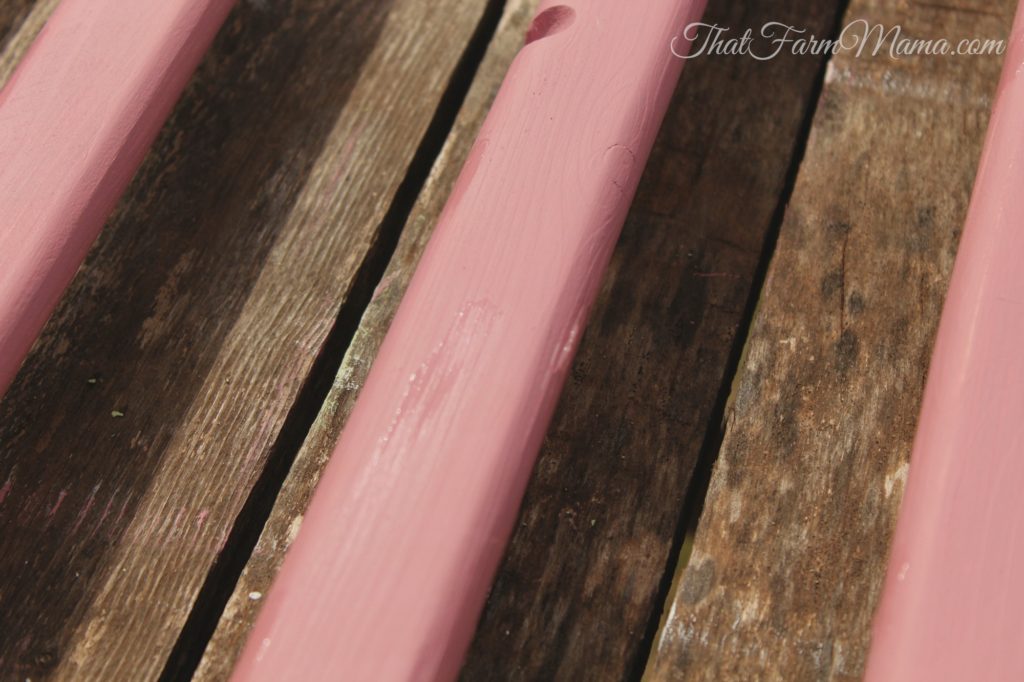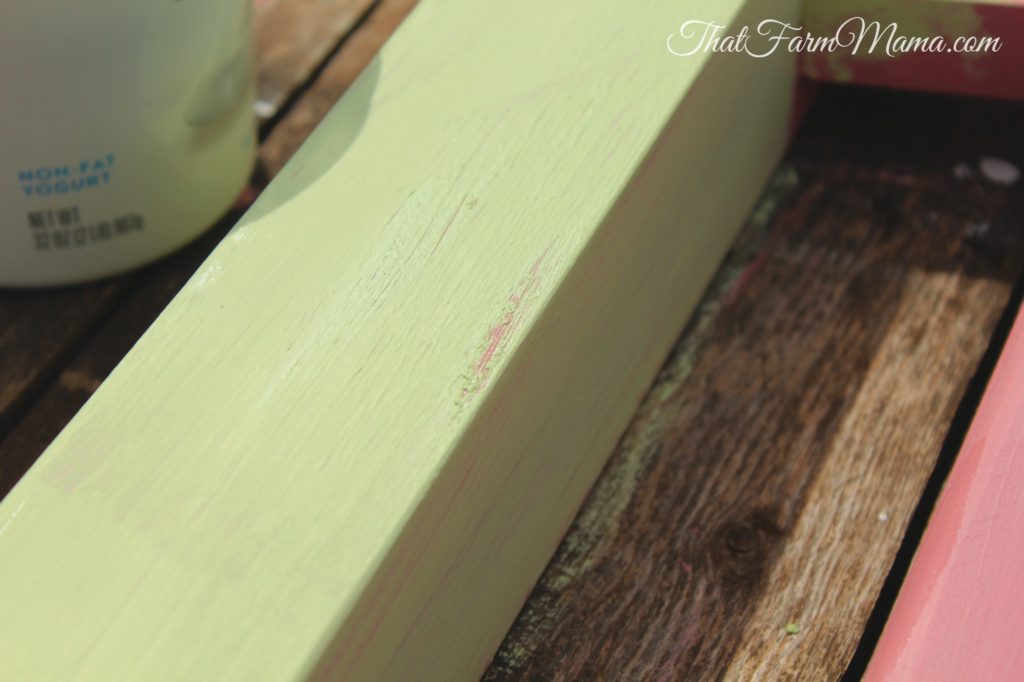 I applied the Vaseline® treatment one bed piece at a time, then painted my top coat, before moving on to the next bed piece.  This process ended up taking me two days – the second of which found me in the back yard in 30 mph winds, frantically trying to finish the painting and get the whole bunk bed project moved indoors before it rained!
Bear chose "Pistachio Cream" as her top coat.  The color chip was a Glidden™ color, but my hardware store mixed it in Valspar™ paint in eggshell finish.  Weirdly, this gallon of paint was much thicker and covered better than the other.  Same paint, so I don't know what was going on.  *shrugs*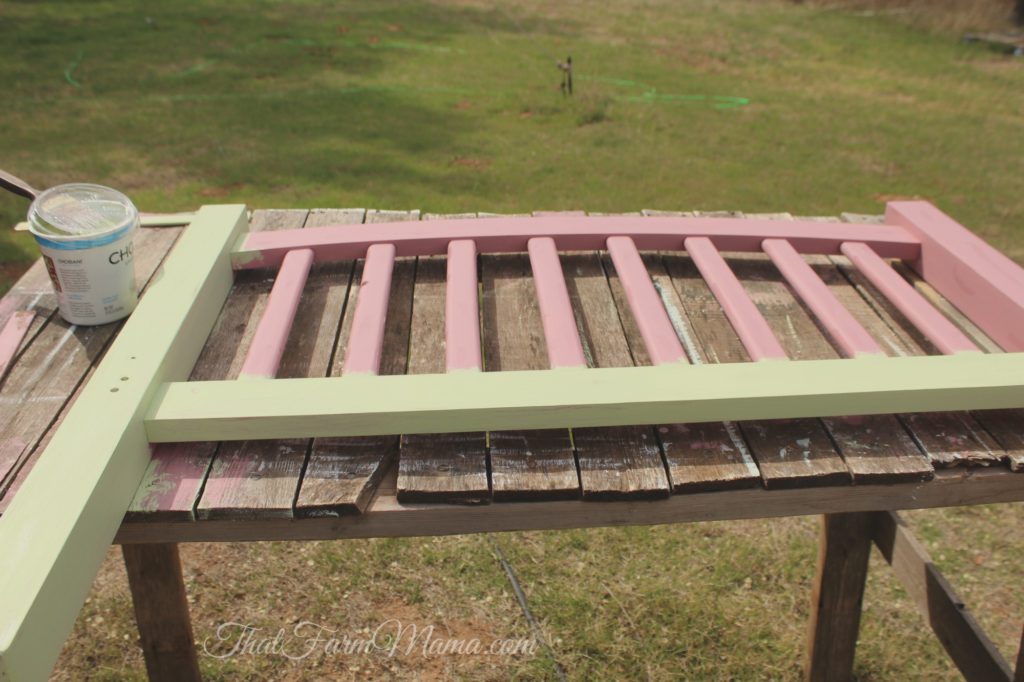 When I was finished with the top coat, I took a clean, soft cloth and started rubbing away the paint everywhere I had applied Vaseline™.   On the pieces I had painted that day, the Pistachio Cream came off really easily.  On the pieces I'd done the day before, it was a little harder.  Next time, I'll rub it off as I go.
The previous owner of the beds had either not used slats, or had also lost them.  (Honestly, I started to wonder if $20 was too much to pay for the bunk beds!)  So my very handy husband made slats out of some of the pallets we have collected.  They worked great – and they were free!
At last, the bed was ready to move into the Bear Lair!  She had been removing posters from her walls, rearranging furniture and making preparations for the event for several days.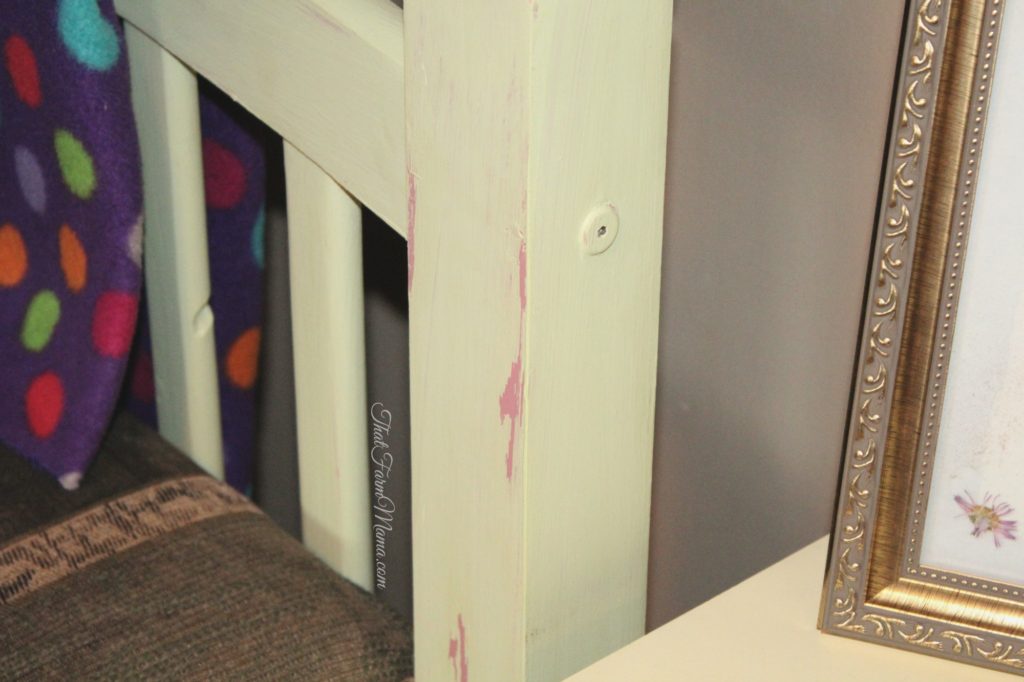 She decided she wanted to sleep on the top bunk.  In the interest of preserving her noggin, we brought out the safety rail from when she was a toddler and put it on the side of the bed not against the wall, just in case.  She is a very deep sleeper and we didn't want to have her rolling out onto the hard wooden floor at 2 a.m.
Right now, we're using her original box spring and mattress on the top bunk, and the old sofa cushions on the bottom as a sort of lounge area.  When our fiscal drought is over (i.e. when hubby's crop adjusting work picks up again in a few weeks) we will get a memory foam mattress for both beds.  But she is LOVING it, as is … we haven't seen much of her outside her room (or off her new bed) in days.
I loved this distressing technique.  It was super easy and inexpensive.  Well, not inexpensive considering that I purchased paint … but I'll be using those colors for other projects, so I think that justifies the cost.  There are so many different ways to distress furniture, and so many different finished looks:  Crackled; time-worn around the edges;  'paint washed'; or chippy and shabby are just a few.  This paint & petroleum jelly method produced more of a chippy, shabby finish that I love.  And I shouldn't have worried at all about how dark and bright the Bunny's Nose color was under the pale green.  It looks wonderful – very girly, but not too little girly.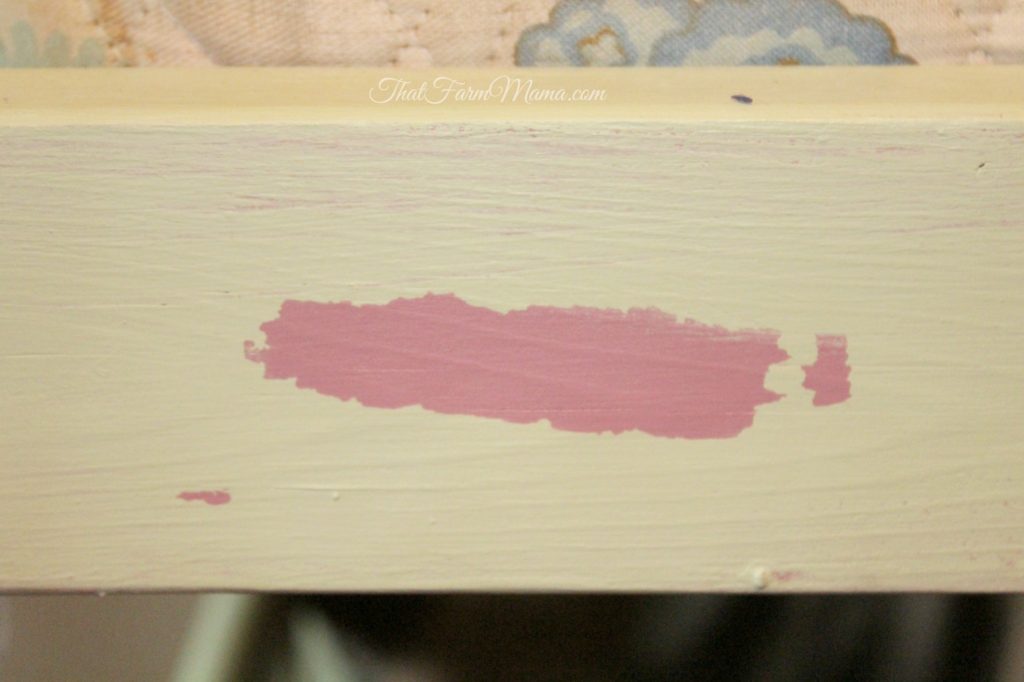 Completing this bunk bed makeover was a huge relief.  It puts into motion a plan to get our 3 year old out of our master bedroom and get everyone into their own space before summer.  Yay!!
Here's a warning … there will be a LOT going on around the Farm in the coming weeks, and I want to share so many things with y'all, so be sure to subscribe so you don't miss anything exciting! Also, follow me on Facebook and Instagram.  I'd love for y'all to share your favorite furniture and diy projects there!  I don't want our friendship to be one sided … 😉
Love & Blessings,
That Farm Mama